Accelerating Employee Learning Experiences with Technology in Large Enterprises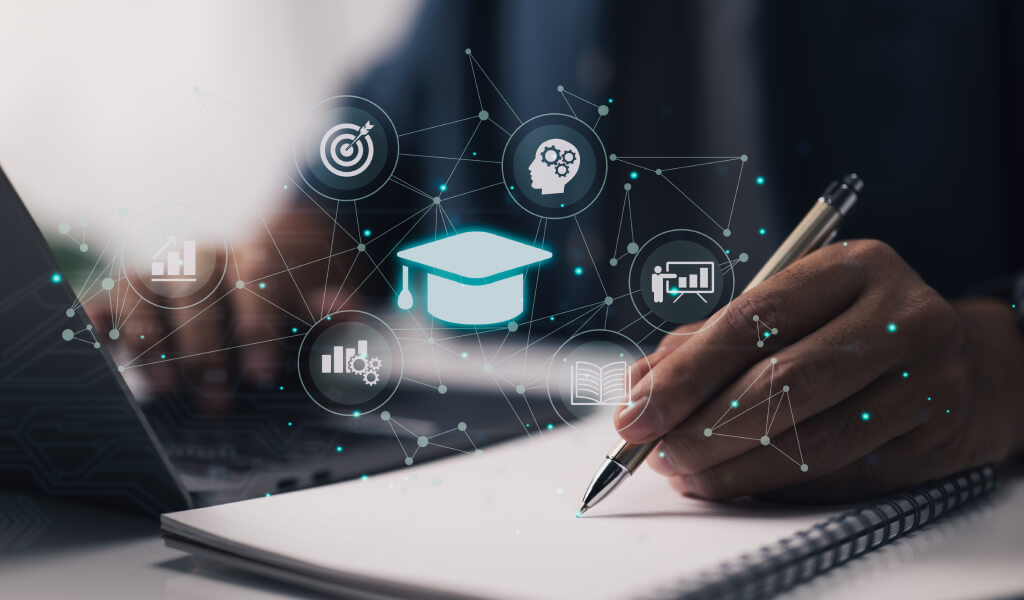 The immense possibilities of cloud-based HCM technologies, especially in large enterprises are second to none. Considering the fierce impact of the pandemic, moving on to an optimistic future, businesses are leveraging digital solutions to become the technology enablers of tomorrow.
However, before the pandemic struck, large scale enterprises generally incorporated HR strategies that involved a ton of paperwork. Employees were required to attend hours of physical training sessions and maintain paper-based learning resources that weren't centralized.
Now that businesses have learnt to leverage disruptions to traverse through the pandemic, the potential of growth and innovation is definitely inspiring. From curating customized employee learning experiences to offering real-time data analytics, enterprises have a reason to move towards technology, together.
Typically, a large enterprise would involve several business functions working together to yield macro-level results. However, it becomes increasingly difficult for businesses to become globally competitive without the added advantage of technological advancements.
With employees highly resonating with inclusive and collaborative work environments, it comes as no surprise that HR tech is the way forward. Therefore, it is imperative that large enterprises are committed to optimizing business processes by utilizing the potential of technology that is built for the future.
What is Employee Experience (EX)?
Experience comes in different forms. Essentially, Employee Experience (EX) is defined as the combination of an employee's experience throughout the enterprise. This starts from offering a customized experience during the onboarding process and ends with how the employee feels while interacting with peers or engaging with leaders to share feedback. Collectively, employee experiences translate to how effective or collaborative the work environment is.
Business leaders must realize that without the impact of people in an organization, progress is certainly a far-fetched purpose. Furthermore, including your manpower just to get the work done or involving them in administrative tasks is not an ideal way to inspire the workforce of the future. On the contrary, integrating employee-centric HCM systems can empower large businesses to automate processes and digitally enhance core competencies throughout the organization.
Here is your guide to improve workforce learning experiences within your organization:  
Invest in Advanced Data Analytics – Roadmap to Employee Learning
Irrespective of the size of your enterprise, efficient data management models can dictate organizational success for a future-ready enterprise. From analysing candidate data during the hiring process to evaluating core competencies, every single detail matters.
However, switching to conventional solutions would only accumulate paperwork and not to forget, unnecessary human effort. Besides, physically managing sensitive information and even lead to mismanagement of data, which can adversely deteriorate organizational credibility.
Now, before your enterprise decides to streamline employee learning experiences, it's important to analyse and identify individual competencies to design customized learning resources for the best experience. Here is where the role of data analytics comes in handy. By leveraging the power of AI-powered analytics, HR leaders can explore real-time insights and accurately design Key Performance Indicator (KPI) metrics. This eventually ensures personalization of training resources and helps in upskilling employees in certain facets of their work.
Digital Learning Management Systems (LMS) – The Future of Learning is Here
The next step after you've analysed core competencies is to offer a learning experience that is interactive and engaging at the same time. However, just by distributing physical training material or requesting employees to attend hours of in-house training sessions, the experience is significantly compromised. Besides, considering recent workforce trends that focuses on flexible learning requirements, the emphasis must be on offering digital training resources.
For instance, Zing Learn is a the home-grown LMS (Learning Management System) designed by ZingHR, an innovation-led organization. Zing Learn, as a digital learning platform, is inspired by the power of analytics and AI, ensuring well-curated training solutions based on employee competency. What's more, employees have the added benefit of learning at their own pace and accessing training resources on the cloud for the best experience. 
Optimize Digital Engagement/Collaboration Channels
In a large enterprise, one thing that can induce a culture of organized learning and development is peer-to-peer engagement. Employees resonate with organizations who acknowledge feedback and respect individual opinions. Essentially, it's about focusing on what makes a workforce truly happy and engaged at work.
Therefore, it's important for businesses to prioritize digital employee engagement channels in order to empower growth through collaborative learning. For instance, instead of physically interacting with individual employees, organizations must consider working with a technology partner who can integrate digital employee engagement solutions into processes that require automation. Therefore, once the foundation is set, progress through learning is a definite outcome. 
Learning in the Metaverse
Virtual reality is undeniably an aspect of technology that is already transforming the future of work. With convenience and accessibility as the priority, large enterprises can leverage virtual training resources and offer centralized employee training experiences.
With the added benefit of creating personalized avatars, employees can create customized characters within the metaverse. This eventually offers an immersive experience that can potentially translate into fostering an inspired workforce.  
Future of Learning Determines the Future of Progress 
Considering the number of large enterprises adopting technologies to streamline business processes for enhanced business visibility and control, the future of learning through cloud-based technologies is certainly looking bright.
For an enterprise to retain their best talent, the focus on customized training experiences must be imminent. Moreover, learning and development solutions in a large-scale business must be integrated into the flow of work, so a collective workforce and the organization are committed to grow together.  
ZingHR – Together Towards Technology 
The chaotic impact of the pandemic has adversely impacted global business operations. Although we are in the post-pandemic era, the transition to adopt digital technologies can be challenging from the get-go. Therefore, considering alternatives, outsourcing technological requirements like automation is certainly ideal.
ZingHR, an enterprise driven by the agility of a start-up is committed to empower SMBs and large enterprises to realize their potential through employee-centric HCM solutions. As a Gartner-recognized organization, choosing ZingHR as your technology partner can offer expertise with respect to:
Digital onboarding solutions
Advanced HR analytics
Robotic video interviews
Digital employee engagement platforms
Talent management insights
For more on how your enterprise can leverage the best of learning and growth with ZingHR,
Visit www.zinghr.com or click here to book a demo.