Future of Work – Leveraging Disruption to Foster Innovation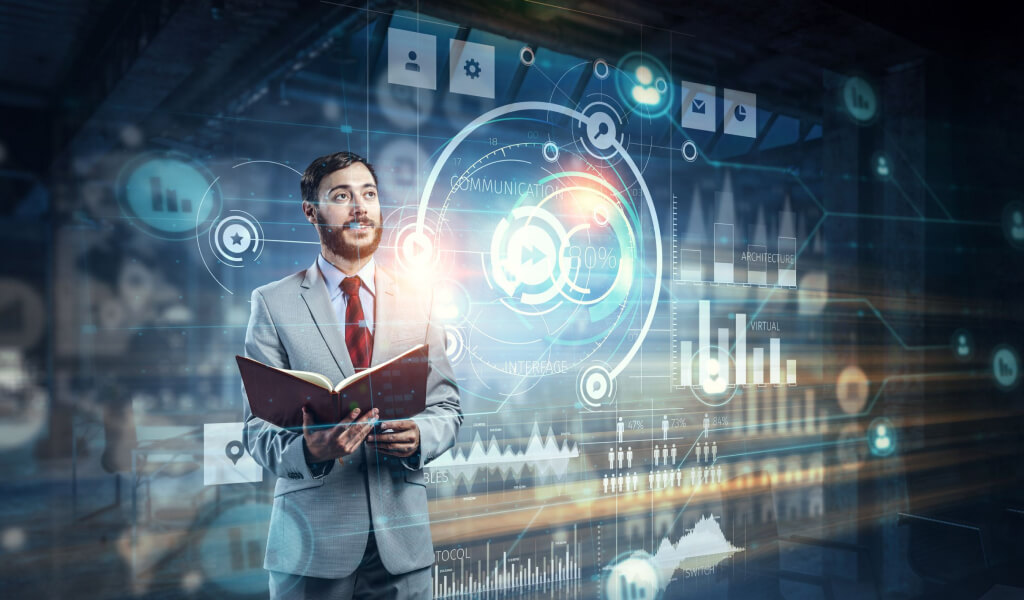 Using Disruption to Streamline Efficient HR Tech Solutions
Traditional and outdated human resource models have always found it difficult to stand the test of time. With future-ready technologies dictating the scope of work, it is imperative that enterprises leverage disruptions and design solutions tailored to enhancing employee experience and fostering digital transformation.
New-age and future-proof technologies are at the forefront of revolutionizing the modern workplace. The rise of cutting-edge HR tech solutions has opened up a world of opportunities facilitating digital communication strategies for the intelligent enterprise. From transforming employee engagement to devising real-time performance metrics, leveraging HR disruption is the way forward.
According to BCG, a global consulting firm from Boston, optimizing business disruption can help enterprises:
Boost technological and digital productivity
Transition to generate agile and robust business strategies
Generate sufficient demand for a productive workforce
Disruption in HR essentially means using the potential of digital and cognitive technologies to enhance employee experience and improve resilient business systems by HR teams.
Another BCG report states that human resources represent the most critical resource at multi-national companies today. Therefore, rather than sticking to the not-so-reliable traditional HR models, organizations must and should realize the potential of solutions that can leverage disruption to streamline processes and move towards the future of work!
Here are 5 insights that can help your enterprise drive disruption and transition into the future of business excellence:
Technological Advancements – Rebuild, Inspire, Transform
Banking on old and traditional software solutions no longer serves the purpose. The emergence of new and agile technologies has changed and transformed an organization's capability to leverage cloud-based solutions that empowers and drives HR growth. If you're enterprise is people-driven, it is more than important to implement strategies that streamline recruitment models and inspire talent management solutions.
Explore ZingHR's talent acquisition metrics that prioritize digital onboarding for a seamless employee experience.
Artificial Intelligence – Harnessing the Future of Analytics
AI, in its core essence, is not new. Although enterprises have harnessed the future of artificial intelligence at different levels of organizational maturity, the future of work requires constant innovation that advances the idea of utilizing business disruptions rather than trying to tackle them.
From designing AI-enabled voice assistants, zero touch payroll, face recognition to improving the employee life cycle, driving HR disruptions is the key to optimizing growth and nurturing talent.
Explore ZingHR's wide-range of workforce productivity solutions and digitally enhance the new hire experience!
Sack the Old, Discover the New
Economic and process-related fluctuations in any business are inevitable. Therefore, rather than succumbing under pressure of disruptions, organizations must leverage change and reimagine HR processes with state-of-the-art technology to come out as an inspired and committed entity.
For example, if we roll back 10 years, human resource management in a large enterprise primarily relied on manual operations. Be it analysis of data, scrutinizing candidate applications or designing performance metrics, most of the solutions were manual in nature. This kind of approach evidently resulted in inefficient business practices with results prone to inaccuracy.
Therefore, by exploring new revenue streams and streamlining HR functions, enterprises can optimize disruptions to leverage business opportunities in the future.
Learn all about ZingHR's robust competency models and link real-time performance to rewards for employees.
Continuous Innovation, Maximum Collaboration
In any business environment, unexpected change and disruption is inevitable. For an organization to efficiently manage resources and move past disruption without compromising employee collaboration, innovation is key. In today's world, the secret to success for any enterprise is to constantly adapt, innovate HR tech solutions and move towards the future of work.
According to Zinnov, an organization has two options – constantly innovate and leverage disruptions or perish with traditional business models. On the other hand, effective time-to-market strategies ensure opportunities that are scalable and leverages innovation at the highest level.
Investing in Digitally-Ready Talent
People are undeniably the greatest resource, irrespective of the nature and size of the enterprise. In order to drive transformation and leverage disruption, HR leaders must focus on raising capital to acquire digitally-ready human resources.
Developing digital talent and skills ensures competency models that can be flexible and adjusted based on the direction of disruption in an organization. By demonstrating leadership across all stages of business models, leveraging industry 4.0 solutions, curating digital content and designing a framework accentuating employee experience, enterprises can harness disruptions and foster continuous growth.
Although disruptors gain exposure by catering to the needs of ignored segments, it is highly unlikely that sticking to older business models can pave the way for an innovation-led enterprise.
Furthermore, the core idea of disruption lies around introducing new innovations that evidently proves to be an essential tool to further advance higher performance.
Empowering Leaders to Drive the Wave of HR Growth
Now, how do enterprises create motivation for necessary change in spite of business solutions performing at its peak? According to a recent survey conducted by RBC who engaged 80,000 employees, the key takeaway was adopting a fresh new way to work. Also, driving sustainable business practices contributed to a culture change, ensuring a co-ordinated and resilient leadership.
In terms of using disruption as a driving force to promote business transformation, HR leaders should act as catalysts of change across the entire organization.
Creating a Relentless Hunger for Hard Work
Change in any form is hard to digest. As HR professionals, using technology to facilitate innovation should be equally supplemented with hard work. Now, is your enterprise ready to be a part of the revolution or are you willing to be overwhelmed by it? The idea is to relish the change and move above the ordinary.
Therefore, it is extremely important for business leaders to create an appetite for hard work and face resistance with utmost commitment and inspiration to succeed.
With ZingHR's cloud-based HCM solutions tailored to your requirements from performance management, AI-enabled interviews, 360-degree feedback to zero-touch payroll across diverse industry verticals, you are just one step away from entering the future of HR.