Road Ahead for the Automobile Sector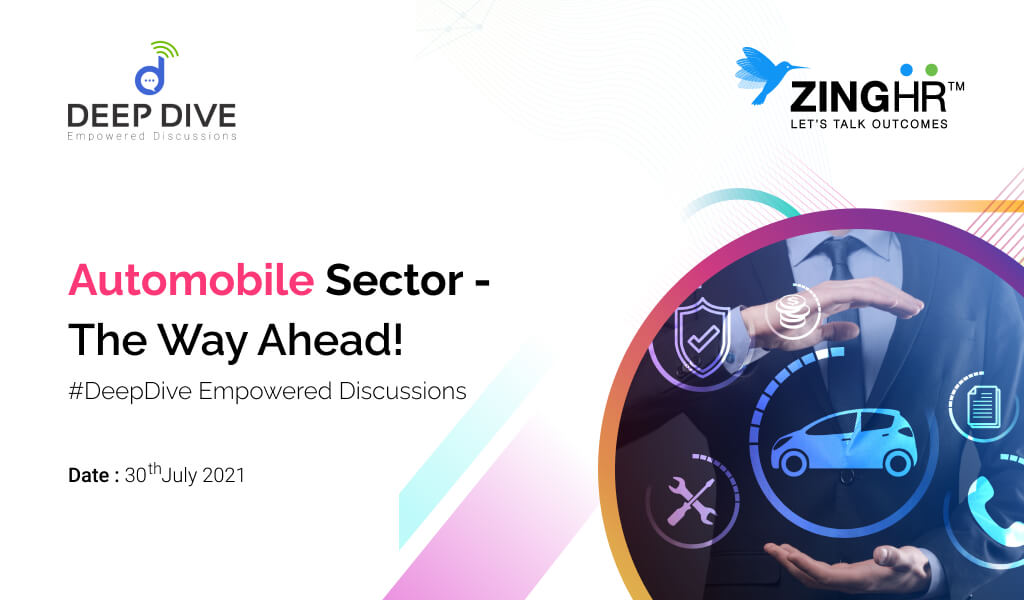 More than a century ago people would have laughed at the thought of cars that could drive themselves or the notion of having vehicles running on electricity, but ideas that were considered impossible before are all being realized through innovation and technology. The question is not how, it is when! Now in an unfortunate turn of events, the pandemic hit the
Automobile sector, as it did to several others. There were production halts, drop in demands, delays in manufacturing, people being laid off and an overall gloom that we have witnessed. But now the world is re-opening; with voluminous vaccination drives and safety measures, we are seeing the industry jump right back. In fact, according to GlobalData in the first
quarter of 2021, the Automotive sector was one of the best performers in the world economy.
Let's find out what some of the industry experts are saying on the same.
Here are the Industry experts:
Sanjeev Malik
CEO | Lexus, New Delhi
Holding a career experience of 30 years, Sanjeev's passion for retail management led him to a rewarding career of 22 years just dealing with luxury cars. He has worked with renowned automobile titans such as Maruti Suzuki, Mercedes, and BMW to name a few. Sanjeev's profile includes a plethora of roles such as P&L management, Sales & Marketing, After Sales, Used Cars, F&I Sales, Customer Satisfaction, Inventory Management, Sales and CRM along with overall Operational Management.
Sanjeev currently is the CEO of Lexus, New Delhi.
Mainak Das
Deputy Chief Content Producer | HT Auto
Working as Deputy Chief Content Producer with Hindustan Times (HT Auto), Mainak Das has experience of 10+ years in Journalism and Content Production across different domains (Business, Automobiles, BFSI, Technology, Energy, Sports) for both print and web media. He
previously worked with the Economic Times and AutoFintechs.com.
He has also worked with Discovery Inc, Intonate Publishing Group, Autoportal India, GaadiWaadi, TopSpeed, and ElectricVehicleWeb.in. and contributed as a freelancer to Ei Samay (A TOI venture). Mainak holds vast experience in content strategy, events, translation, and proofreading projects.
Dhanraj Kamdar
CEO | Mercedes-Benz, Central Star Gujarat
Dhanraj Kamdar is currently serving as CEO – Customer Service at Central Star, Gujarat. The dealers for Mercedes-Benz passenger vehicles in Gujarat.
He is a senior Automotive professional with 20 years of experience in retail customer service of only premium automotive brands – Toyota, Lexus, Audi, and Mercedes-Benz within India and Middle East markets. Awarded with accolades at the national level from all the brands for his exceptional contribution to the automotive retail customer service business. He was
recently featured as the most influential CEO to watch in 2021 in the CEO Story Magazine and awarded the Best CEO by the Indian Achiever Forum for 2021. He is also an avid professional speaker, team builder, mentor, and motivator for new generations of his industry.
Anil Chhikara
CEO, Founder & MD | BlueBolt Electric
Also known as the Kattapa of the startup world, Anil Chhikara is an entrepreneur and a consultant who has years of experience in mentoring startups. He founded 24×7 Learning in 2001 and led it to become India's largest e-learning implementation company. After exiting in 2013, he set up Marco Polo Ventures, an innovative Go-to-Market Strategy and Execution consulting firm based in Dubai. Before founding 24×7 Learning, he successfully set up & launched businesses for 2 large MNCs – Parametric Tech and USA & Cimatron, Israel. Anil is also quite a TV personality as he was the anchor judge for Haunslay ki Udaan, India's First Startup Reality TV Show, and the official startup coach for The Vault Show, India's answer to Shark Tank. Coming back full circle, he's back to being an entrepreneur, with his venture on an electric vehicle, called Bluebolt. Blueblot is a B2B first & last mile smart EV logistics solutions company.
Amit Jain
Director, SM Auto Parts
After graduating as a chemical engineer from the prestigious IIT, Kanpur in 2006, Amit Jain joined his family business. He met with a lot of challenges and touched a lot of milestones in the last 15 years. He started with a gross turnover of around 4 Cr in 2006, moved to 600 Cr in FY 2020-21. And, is now expected to reach a turnover of more than 1000 Cr in FY 2021-22. Amit's companies have worked in different domains from Automobiles Ancillary
(Distribution) to Coal Transportation to Steel Manufacturing. They are the largest distribution channel of TATA Motors Commercial Vehicle Spare Parts in Uttar Pradesh & Maharashtra. Amit believes that his role is to ensure the organization moves from being unorganized to the organized sector; and that can be done through IT innovations, HRM, or process revolution. Amit Jain is the Director of S M Auto Group.
Opening Statements
Sanjeev Malik
I think if you want to check the health of the economy of any country, just check the health of the automobile industry. If the health of the automobile industry is up; the economy of the country is up and vice versa. When I joined the industry 30 years ago and when I look at it now, it has transformed into many folds and it is quite unimaginable. There are talks of
electric cars and various options of automotive. The automobile industry and India's growth story will stay and there is a great future for the Indian economy. The automobile industry is in a very nascent stage even now and growth potential is immense. Penetration is still happening. So, I am pretty positive about the next decades to come.

Mainak Das
The automobile industry might face hiccups due to the pandemic but there are also lots of opportunities the industry can explore. If we see the different facets of the automobile industry; the different dimensions are changing pretty significantly. For example, shared mobility was going to be the next thing. We thought personal vehicles won't be used as much, but during the pandemic, personal vehicle usage has increased instead of the ride-sharing market. There was a slump in demand overall. The autonomous driving tech and R & D business segment will grow. Electric vehicles are also growing in this segment. These are the different changes we are witnessing. Coming to the future, I feel it will be a transitional phase for the next two to three years for sure, but after that, we will see a huge sustainable change in the space that will increase the implementation of technologies and different business models. Before the pandemic, we saw new business models like not buying a car but using a car. Companies were not product providers but service providers. The automobile industry will be different in the next 5 years. Services will be the focus and OEM will become service providers instead of product providers, just like the telecommunication industry.
Dhanraj Kamdar
Mercedes Benz is the first manufacturer to do direct retail with the customer. This is a game-changer in the industry but any game-changer will have turbulence in the beginning, but we are prepared for that. It is not just Mercedes Benz but also many other manufactures especially German and European manufacturers who are arriving with the online sales model. In this, transparency is thoroughly maintained during the entire customer journey. The transactions are safe and secure where the customer pays directly to the company and the company delivers the car directly. There is no mediator or entity. The customer will prefer the dealer based on the customer service and the experience offered to him. Here also the role of customer service is seen. If the customer is happy with the service, they will come back to the same dealership. Here the role of the dealer is in two segments. Things are going online. There are five senses that help a person make decisions – sight, smell, touch, hear and feel. For that customer journey and demonstration purpose, only a demo car is needed. And the second is customer service after delivery of the car. This model reflects transparency, integrity and honesty through the entire customer journey.
That is going to be the next business model in the automotive retail industry. Many of the manufacturers are now opting for all online solutions. You can also select what repair you want on the website and on a click of a button, you can ask someone to come to take your car for service.
Of course, for picking the car and servicing the car, human intervention is required, but everything is moved to digital mode even when it comes to tracking. Online is a wonderful tool, but of course, it cannot replace the human senses.

Anil Chhikara
It will be a hybrid vehicles market and hybrid fleets which will work in the next few years. So, when you look at the automotive industry, in its earlier version it was a horse-driven carriages industry. And that time ford came and others came. He had the money and the name and the connections. There is this iconic photo of New York, in the past with very few
cars and 90% horse carriages and ten years later the whole scene had changed. Personally, the whole distribution model is archaic. The only similarity I see between the Automotive industry and electric vehicle industry is the same as the horse carriage industry Vs. Automotive industry. The only similarity between these industries is that it takes people or
goods from point A to point B. So, when I see the automotive industry it reminds me of laptops, mobile phones, assembly plants, and thousands of acres of factories that are not needed. Some companies are building EVs from scratch and their whole model is a micro- factory. Now the automotive companies have huge humongous factories and heavily loaded cost structures which include manpower etc. Then you have showrooms. The whole experience is changing I feel. I feel it is inevitable that transportation and logistics will not remain the same.
Amit Jain
It's not that in the coming years EV will take over our fuel engine completely, but there will be a hybrid engine, in the next future years to see. This shift will be time taking and acceptance won't be so easy.
I used to have an RX 100 bike. Even today I love the sound of that bike. The experience and feel of bullet or RX is something altogether different for me that can't compete with anything else. So, for a customer as well, the experience matters. So, it will take time for the new type of engine to be welcomed by customers. It will take another 15 to 20 years and we should be ready for this.
Industry experts take on Electric Vehicles and their emergence
Sanjeev Malik
The adoption of electric vehicles at the top end of the segment will be there as many people will want to be a novelty and they can afford it. When we talk about the electric revolution, it has already started in the unorganized sector. If you go to any town, you have battery rickshaws running. A poor man can manage an electric vehicle; charge it, run it, ferry it and earn out of it. And they are successful. When we look at the organized sector, the biggest push in a year will come from 2 or 3 wheeler space. My primary worry is when you look at Tesla as a model, they are selling solar panels. So, they are recommending to customers that we will put solar panels in your house and you will generate clean energy and through that energy, you charge your car. In India, currently, we are into coal plants. There is very little hydroelectric power and now we see green energy initiatives from corporate players and not from the government. So, the real success from an environmental point of view would be if we can charge our cars in the future from clean energy sources. Today you travel in an electric train, you feel you are not traveling in a diesel-run train. But the energy coming is from a coal plant somewhere. You are just shifting pollution. Affordability plays a part too. All the Electric Cars that are coming now are with a 15 to 20 lakh increase. So, it doesn't make sense on an economic level. The biggest jump is going to come from 2 and 3 wheelers as they will be first and then you will find the move to 4 wheelers when the affordability aspect is taken care of.
Mainak Das
EVs are going to grow but the tenure of this growth is going to be longer than expected especially in India. If you see the general ticket size is 5 to 15 lakh for a car, beyond that it becomes a premium car and premium cars are not being sold as much. From a buyers' perspective, a car should be under 15 lakh, whatever vehicle it is. Currently, in India, there is no EV under 15 lakh. In fact, the most EV costs are around 7 lakh. So, as a first-time buyer, I will rather go for Swift that is 5 lakh, and not go for a higher-priced car. But EVs are also a lucrative deal as there is very little servicing or maintenance cost. If you see the EV market, it is majorly dominated by 2 or 3 wheelers. The vehicles coming in this segment are not helping the Indian market. EVs are not carbon neutral at this point.
Because electricity is generated from coal and if EV companies are buying coal how come they are carbon neutral. If you are producing electricity from sustainable means then only it can be true carbon-neutral vehicles.
Anil Chhikara
When people buy a car, they are not just buying a car but they are buying a status symbol, a feeling, an experience. In the B2C space, it is not in the interest of large companies to get into the EV space keeping in mind the huge inventories and huge costs. The whole game of EV is to showcase it as a premium product so that the main product keeps selling. The automotive industries are not ready but they are just making space. Look at the investment perspective. The biggest investment is Ola and then Ather, which got $130 million. The next startups are only getting $6 million.
So, our focus is B2B, we look at fleets. For fleets no one will come to a showroom, we just give them specifications. Our electric three-wheeler which carries about 675 kg, has a 125 km range and this can change depending on various factors – temperature, grade, etc. If you are going up it needs more power. So, our 3-wheeler has to charge the battery. So, usually, when we deal with customers, we say here is a sample and use it how it works for your use case. The way we work is you go to a hub, you put in the solar panels, put in the storage systems, put in the chargers, vehicles, optimize the route and connect the right places – your godown
to your wholesaler, your wholesaler to your retailer. That loop has to be made. In EV there is no after-sale service. It is like a laptop, if something goes wrong with your hard disk, they are not going to repair it, they will just take it and send it back to the OEM. This is a system integration game, it will not have those kinds of margins. We talk to large fleets with 100-200 vehicles with everything and tell them in 30 min serviced vehicles will be with you. But can this be done all over India? No! Definitely, the first 2 wheelers will come in and then unorganized vehicles will come in.
Dhanraj Kamdar
In the Electric Vehicles, as they are silent, manufacturers are also planning to introduce artificial sound that can be audible to the customer just for experience's sake. So, these are progressive people, whether it is Tesla, Mercedes, or even Audi E-Tron, they are introducing artificial sound which is futuristic. EV will always be a second car in a rich man's family, with
a thought that I take it around to contribute to the environment. When it comes to the EV market we must ask ourselves are ready for a CNG or IC engine? As I see from a consumer or a private buyer perspective, it will take many years. Yes, companies are getting future-ready. So, I would like to conclude by saying, do not find a customer for your product but find a product for your customer.
Industry experts take on post-pandemic shifts in business activities, a spike in the used car market, and technological advancements.
Dhanraj Kamdar
During the pandemic, everything was at standstill, and when you are at standstill, you have many opportunities. Yes, dealerships had to go through a rough patch. When you talk about B2B- manufacturer to retailer, they both realised that this business model doesn't help them or enable them to save a reserve fund for 2 months also or 15 days. So whatever experience, show, or glamour they are giving to customers adds a lot to their cost. That's
when they realized it needs to be a lucrative and profit-making model. That's when e- commerce came into the picture, saying if a customer cannot come out of his house, let's give him all the experiences from his house itself, whether it's buying a service that is an intangible product or a car care product. German manufacturers are not just selling cars, they are selling a lifestyle. The online model now got acceptance after learning lessons from the pandemic.
Sanjeev Malik
I think the pandemic just happened but dealerships were anyway closing down in the previous two years and the auto industry was already on a downward spiral. And everyone was thinking that India and China are the most growing economies. Every manufacturer wanted to grow in India and they had unrealistic targets, which led to unrealistic production, which led to unrealistic stocking, which led to unrealistic discounts. Everyone saw the automobile industry exploding but there were hardly any margins to be made. Lots of dealerships were operating under losses. Pandemic was a warning bell post which everyone has cut their costs. Manufacturers have realized that they need to be profitable and sustainable rather than have a small time of glory and close down. Based on that they have tightened the belt. And the dealerships I feel after all this are more sustainable and
profitable than they were. The used car market is much bigger than the new car market and it is growing at a higher pace as well. Today there is a shortage of quality used cars. If you have one good used car you have 10 buyers for it and you can command the price you want. In many cases, I am
buying a car at a higher price today than what I sold before the pandemic. Even when it comes to new cars, manufacturers have increased prices and slashed discounts post- pandemic. Customers are willing to pay slightly more for a good car. And as we move towards EV, it's an idea which not everyone is comfortable with. Talking about the latest technology trends, when BMW first introduced sound, the idea was that the vehicle had its sound but if you wanted to enhance the sound there was an electronic
device that could help. But what you see now is more from a safety aspect. If we have a very silent vehicle, then it can cause a problem to pedestrians as they would not be aware of a vehicle approaching.
Dhanraj Kamdar
When it comes to adding sound-oriented technology to vehicles, all goes back to basics. It's about the five senses which go back to the heart and mind that make the decisions. One of the senses is auditory. It is basic but we are advancing in technology, keeping this as a base. We should remember these five senses that help humans make decisions.
Amit Jain
Whenever a customer gets a self-driving car, there will be a single thing in his mind. How safe is this car? There have to be two technologies to achieve this – one being data networking as there has to be a single communication channel. That is why data networking needs to be perfect. Second, the Audio power supply needs to be top-notch. The digital sensors that can detect accidents and pre-empt situations are a must.
Industry experts take on the new age of GenZ customers and strategies around them.
Mainak Das
GenZ customers will be the largest customer base in the coming years in the automotive industry for sure, but it will not be like how it used to be for previous generations. The GenZ customer is mainly focused on technologies. They are also looking at having premium features rather than a car that's just a commuting medium. So, the companies have to create cars and motorcycles or any automobile which has to be future-ready in terms of design, technology, and business. Products have to be very interesting in terms of styling, features, and tech. From a business dimension, GenZ customers are interested in a car without having to buy it. The new business model is the subscription model. That will be very important in having a GenZ customer base as they will go for experiences. Experience
in terms of having an ownership experience for a year or so, instead of having the car or bike forever. The companies have to be design authentic instead of just copying designs and innovations. These are the factors one must keep in mind while thinking of GenZ customers.
Anil Chhikara
Most young people these days like to go out and they take a Yulu or other driving service. That's because they can drive it, however, they have the flexibility to drop it whenever they want. People are becoming so mobile these days, no one wants to drive anymore. People are traveling and working and are so dynamic that driving is becoming an obsolete skill.
Industry experts' thoughts on Transport as a Service.
Dhanraj Kamdar
Transport as a service will be the future as Anil said. Cars are getting expensive. The new the generation will not need to invest in a new car. It is similar to a house. I remember a quote that said, "fools build houses and smart people stay in them by renting them." So, there will definitely be a huge possibility for the transportation piece. Cars can be a hassle because when you own a car you need to find a parking space, you need to have enough energy to fight with the neighbor who is parking wrong. People are busier than ever. In America, families spend 30 min together in the whole day and they work longer hours than their counterparts in other developed countries. Cars are a major source of global warming. Cars are losing popularity and few countries are even banning IC vehicles. So, transport as a service hits an intersection on four levels – Autonomous vehicles, Electrified Vehicles, Connectivity, and Shared economy. It will be based on these four pillars. It will be the next-generation model. This new generation of thinking will arise through inspiring innovation of connecting transport as a service. While I was working in my previous organization, I was given a car by the company, and then I realized driving daily took me 1 hr and 50 min. So, I used public transport in Ahmedabad called Bus Rapid Transport service which took me 20 to 25 min. So, you tell me what is better. My staff asked me why are you coming on public transport when you have a car. And my response would be for you maybe prestige is valuable but for me my time is valuable.
Anil Chhikara
For countries in Europe or Nordik regions that have been using EV for 2-3 years, data shows that 60-70 % of charging happens through top-up chargers. And 70 to 80% charging happens either at home or offices, the rest of it is either when you are on a break or a mall etc. So, the chargers that cost 40-50 lakh are only used when one has to go from one city to another. If we keep comparing the ecosystem with the automotive industry; because they fulfill the same demand of going from point A to point B; I think we will miss the picture. An EV is not a showroom vehicle. Most of the time if people need to do business, they will take a bike that runs three times a day and forgets about the styling etc. Before covid, it took a couple of years to change everything. Even if we take away the pandemic, mobility or transport as a service has already happened in 2 or 3 wheelers. Maybe not in India but it is happening slowly. The GenZ guys do not want to buy a vehicle. They want to rent it. On the commercial side transport as a service has started. It is a matter of how much per km are people charging. FMCGs don't have their fleet sometimes and it is in their interest to keep reducing cost per km and kg. And the only way they can do it is through EV. So, the first adoption will be in the business B2B side and when it comes to glamour, B2C will take over.
Closing Statements
Sanjeev Malik
Due to the pandemic people who never bought a car had to buy it. As there was a shortage of cabs. But in the long term, shared mobility will be more useful than purchasing cars.
Anil Chhikara
People are thinking Tesla will be there next year, no it will not. It will take more time initially, but once it reaches an inflection point, it will shoot up. In the long run, at least the commercial vehicle scene will be electric. On the B2B side in another 10 years, it will be EV. In B2C there are two segments. One is a luxury need and another is functional. I think the first segment to reach here will be the utility folks and the luxury will remain. And slowly luxury will follow suit.

Mainak Das
It will be Premium, Connected, Autonomous, Shared, and Electric. Things will take time but we will get there.
Dhanraj Kamdar
It will be Epic HX. Epic Human Experience. Epic stands for Easy personalized and in control human experience. Human experience will be a combination of user and customer experience.
With an exciting panel discussion on automobiles and the future of luxury cars as well, here is a quick audience poll.