Performance Management System & OKRs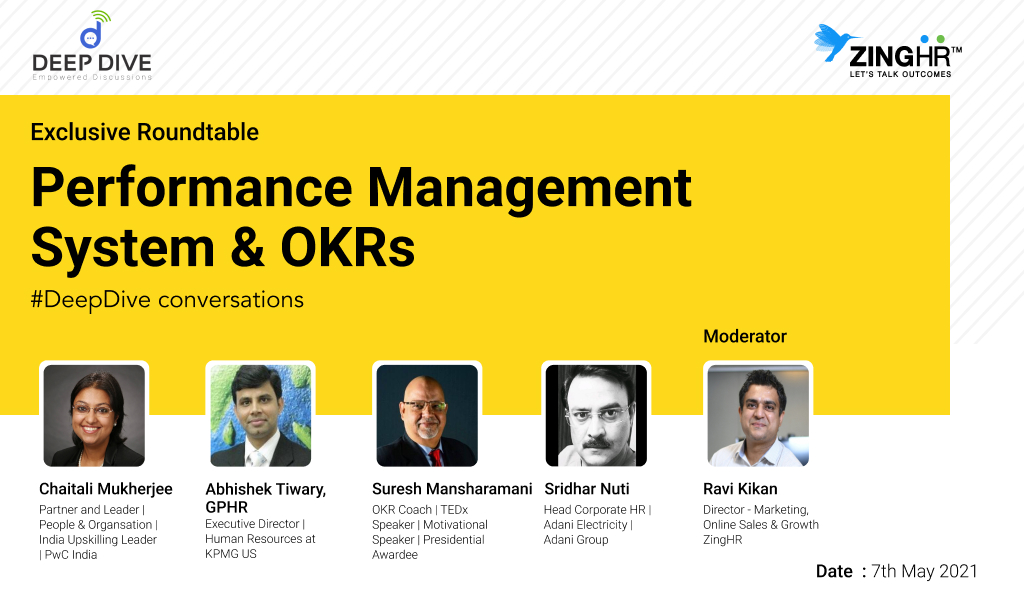 Date: 7th May 2021
About Performance Management System & OKRs
Performance Management System & OKRs play a key role in today's fast-paced business scenarios. Whether it be an SMB or an Enterprise, PMS is something that helps in driving outcomes. An effective Performance Management System is highly critical in today's business environments to fine-tune its processes, to achieve it's long-term & short-term business objectives & results. At the same time inspire employees to push their limits to achieve maximum efficiency without losing hindsight of the results and deliverables.
A well-working PMS has an employee-centric approach; it helps managers in harnessing the full potential and creativity of the workforce whereas OKRs are business-centric. It breaks down a company's objectives through clear, achievable and measurable goals.
As 2021 begins, help employees to identify where their accountabilities intersect with others and construct a detailed plan for collaboration at the start of the performance cycle. A Gartner research shows that when employees collaborate effectively, their performance increases by 20.6%.
Speakers and Moderator
His experience in Startups & Enterprise sectors like Media & PR, Fintech, Education, Digital, Retail, Mobile, Healthcare, AI, IoT, Tech, e-Commerce, Real Estate has helped him to launch & grow ventures. He has worked in blockchain & crypto products in his previous roles.
The author of one of the most loved books for startups & entrepreneurs, titled, "How To Validate Your Startup Business Idea". He even engages with educational institutions to talk to the students about how to prepare for the next step, Future of Work, Digital Transformation, Technology disruption & Change Management. He enjoys working with entrepreneurs, enterprises, community builders & investors who are focused on growth. He has been part of startups with successful exits by leading startup operations in a CXO role. Currently, he is the Director of Marketing, Growth & Online Sales.
Chaitali is a Partner with the Management Consulting division of PwC India, & leads the People & Organization Practice for India. She brings 19+ years of extensive experience spanning across consulting & business. Chaitali specializes in Business Strategy, Leadership Development & Organization Transformation with extensive International Business & General Management experience. She brings her own leadership experience of having led businesses in India & across the Asia Pacific & Middle East region.

Chaitali is a Leadership Development & Top Team Effectiveness expert. She has worked extensively with clients in the Technology, Financial Services, Automotive & Life Sciences & Industrial sector, partnering with the Promoters & the CXOs as an Advisor, Assessor & Coach, & working closely with them for delivering effective business & leadership goals, at various stages of the organization's & leaders' journey. She has worked extensively with clients to deliver critical business outcomes, leveraging culture as a pillar. Prior to PwC, Chaitali has served as a Client Partner with Korn Ferry Hay Group's Management Consulting business & led their Leadership & Talent. In addition to consulting clients, she has also been the AAC & ME Managing Director for Manpower Group's Experis business & served as the India Managing Director for Manpower Group's consulting business, Right Management. As the MD for India, she was responsible for restructuring & building a profitable business, & building & key clients' relationship management. She was instrumental in expanding the Professional Services staffing business of the Manpower Group across 13 countries in the APME region through both inorganic & organic growth opportunities.
An accomplished senior Human Resources executive with over 2 decades of demonstrated expertise in HR leadership; in providing innovative human capital management solutions; including strategic planning, policy & governance areas. Acts as an adviser in providing sound guidance to management on the human side of an organisation, with a blended approach – balancing E&O Foundations – able to poise bottom-line business goals aligning with the needs of employees. An incisive Human Resources professional with 24 years of Cross national experience across sectors like-Manufacturing, Telecom, Engineering, Consumer Goods; Retail; Power & Utility infra sectors. Worked with companies like Voltas(TATA Enterprise) Gulf Oil Corpn (Hindujas) & Tescos plc – the UK currently associated with Adani Group. Proficient in designing & implementing HR systems & processes as well addressed Capacity Building Plan for greenfield projects as well as expansion plans in both Telecom & Utility & Infra Organizations across levels including Senior Management hiring. Designed & Implemented -PMS under BSC; KRAs H&S on designed & implemented Competency Framework for the Organization
Demonstrated ability of culture building in line with vision, mission & values of the organization & worked closely with PWC in creating – Value Champion Project across business verticals. Led an entire gamut of Talent Management Interventions like Performance Management, Benefits Design, Career planning, Design & implementation of ADCs for high potential Talent.
Human Resources professional with about 20 years of experience across both government & private organizations (IT, Offshoring & Professional Services industries). His professional journey has essentially included managing end to end HR life cycle including high scale complex deliveries of peoples priorities, helping build businesses ground-up & creating sustainable structures. He is a business-savvy, outcome-oriented HR leader endeavouring to provide solutions through an amalgam of academic, practical & data-driven approach. He has led several large & small M&As from people, cultural & governance perspectives. He possesses excellent interpersonal & people leadership skills with the ability to work through a matrixed organization.
Abhishek spent his founding years in the Indian Armed Forces and boasts of having learnt some finest skills and values there. He is an alumnus of the Prestigious National Defence Academy, Khadakwasla.
Born in a refugee camp in Maharashtra, started his career with a job of just Rs 300 per month to 300 times oversubscribed IPO in 1995, followed by a Presidential Award, now a Certified Gallop Strengths Coach, Business Coach, OKR Coach, & Author of 4 Books. He couldn't speak & write English when he started his career. He had no significant education, no capital, no mentor, & no excuse too. He only had his passion, hard work, & total madness. He became a self-made multi-millionaire by the age of 38.
His Biggest Failure-
In 2006 we started the online DVD rental business MovieMart.in. It created lots of hype & media coverage, but it failed miserably. They lost a few crores. He worked very, very hard with a "Never Quit" attitude. His most significant learning from this failure was "sometimes quitting is a smart option." He believes that success comes from "tajurba" (experience), & experience comes from a bad experience. So he founded Tajurba Business Network in 2017 with a vision to connect 10 million SMEs of India with the Tajurba Platform. A Business Coach, OKR Coach & Leadership Coach based in Delhi, NCR, India. He helps individuals & businesses achieve their Big Hairy Audacious Goals (BHAGs) in 90 days using OKR systems. No Gyan, Only Execution & Results!
Speaker's take on Performance Management System & OKRs

Ms. Chaitali Mukherjee
Partner & Leader | People & Organisation | PwC
"Performance management can be categorized into two parts: one is the Performance management process, and the second one is a Performance management system. A lot of organisations spend an awful lot of time and money on the PMS but don't get the process right and then they expect the system to deliver. To me, performance management is an extremely expensive affair with a leading impact including engagement of talent and performance, focused culture and a lagging impact of business outcomes and quality of talent. So, anything that we do in the PMS space, it is important that we get it right.
Over the years, working across systems, industries and organizations, there are 2-3 very simple things that I have at least taken away when we think of performance management as a process. From a performance Management process perspective, there are three very simple things that organisations could and should focus upon and the organisations which have done that well, have been able to get the best value out of it. The first & foremost is Clarity – performance management at its heart is about driving clarity on goals; what do we want to achieve, what do we want to deliver. The second one is a Commitment to the goals. For example- I could have clarity on my goals, but if our mind doesn't accept it, then that clarity will not deliver results. So, how are we ensuring that there is the commitment to the goals and that is a very important part of the performance management as a process which often gets left out? The third one is the Capability & Capacity to deliver those goals. Capacity is what the organization is enabling in the form of the apparatus & tools to deliver it. So, it's 4C's- Clarity-Commitment-Capability-Capacity.
At the heart of all of these, Performance management is about building and driving trust and the most important lever for driving trust according to me is communication. It is the biggest opportunity to drive clarity, drive commitment & build capability or making capability & capacity available. It sounds very simplistic, but these are five very loaded aspects that we need to run in an organisation."

Abhishek Tiwary-
GPHR | Executive Director |Human Resources | KPMG US
"In my 20 years of HR experience, I have realised that we have never been able to solve the performance management conundrum. And in fact, companies are now beginning to understand that the entire system is based on how much trust there is between the performance manager and the counselee. All of your company's engagement or employee engagement scores and everything that impacts it depends on that one relationship. I noticed it quite early in my career when people joined for the brand but left because of the managers. All of our systems are trying to enhance trust in whatever we do. The other big aspect that all companies are trying to go after is "experience". So, everything you want to build today you want to ensure you provide a great experience – whether it's your systems that reward employees, performance management, succession planning, learning & development, everything is boiling down to experience.
When you look at things from the lenses of experiences and lenses of trust, it becomes important that the employee comes at the centre of it. The reality is the employee and performance management trust issues are very complex things to break down. The employee comes with a different mindset, they come with different aspirations, different backgrounds, different education and the performance manager is probably gunning for different things and the problem happens when the manager and the counselee realize they are not on the same plane. For HR, it's a compliance exercise. The divide begins at the goal-setting stage and the gap keeps widening through the year.
You have asked a good question about how the two business models between India and the US work? And what are my observations on the corridor issues? When I was in India the overall age of the workforce was younger than my current organization (also attributable to the business model). So younger employees, younger managers. And then when I moved to the US, that number went up slightly. I noticed that people laid a more serious emphasis on what words the performance managers used for them in the conversations. Performance conversations are formal affairs. And that conversation was sacrosanct, they prepared for it, they made notes, performance managers were very serious about those conversations. In India, there was a layer of informality (and I am not suggesting it is a bad thing). There was also expected to be more continuous conversations (partly owing to the business model). Idea is to find that balance. So companies moving away from performance management ratings was a good step because it got the formality in the process out of the way. Ultimately, at a very basic level, it's a conversation between two mature professionals and that's the way organizations have to begin to look at it and stop spending millions of dollars on systems. We have spent far too long trying to get the system right as opposed to just the philosophical element of the conversation right."
Mr. Sridhar Nuti
Head Human Resources | Adani Electricity | Adani Group
"I've had two-three different career transitions at companies. The way I have worked in Adani is contradictorily different to what I used to do in other entities; their compliance is more process-centric. In an organization like this compliance is more related to addressing today's needs. Look at tomorrow what is going to emerge, we'll address that later.
Hope everyone is going to look at this diagram in an open & unconventional way. Let me talk about the truth, rather than putting it in a beautiful paint and picture around PMS.
In the last three decades, the maximum of us, we have gone through this & we have seen what it is. A process-centric organization adopts the systems decently and people-centric organizations normally avoid. As the other speakers have mentioned, for a performance manager these discussions are more of a tick mark exercise. It's something that's avoided rather than strictly complied with. The reason being, openness & transparency, the inability to share the successful completion of the agenda put forth at the beginning of the year versus how much has been significantly completed, the gaps & how we are going to complement that – the processes & resources that need to be strengthened so that we can deliver the balance while also taking care of the current year agenda. PMS is not a ritual of HR; it should be ingrained into the organizational culture and systems and this is where accountability and ownership come into play and I want to see that in the organizational HCM systems. If a company is not transparent, how are they going to embed HR Tech into their practice?"
Mr. Suresh Mansharamani
OKR Coach | TedX Speaker | Presidential Awardee
"My experience has been with SMEs. I was part of an international networking organisation where we had asset like models present in 70 countries where they made this PMS where all business owners are members and there are no employees and they are taking roles and they are accountable to the people present in the group. Their system was quite simple; they were scoring for every activity (like attendance, training, referrals and so on) which makes them more accountable. I noticed that when they own a goal they become a part of it. They can see their scores and improve themselves to remain at the top.
It is important to set up a culture at the top. If you have a great culture, processes in place and accountability, then it can easily drive an organization's growth. Being a Gallop coach, I have seen one more thing, you can get the best from every employee if you understand their strengths.
There are no bad or good employees, most of the time, if you ask a fish to climb a tree you are going to annoy the fish and are going to waste your time too. So as a Gallop strength coach, I look at that aspect also when I hire people for my organisation or when I interact with people I look at their strength and go through their Gallop strength and that helps me a lot.
Coming to OKRs I have practised this in SMEs which nobody has ever done in the world. Companies like Amazon, Flipkart and Google rigorously practise OKRs. Then I have realised aligning the companies' goals with every person and employees at the bottom is very important because it develops a sense of ownership and responsibility. When everybody owns a goal, it's not a company goal or CEO's/ board of director's goal, that is when it becomes their goal. Then they perform and I've seen some magic happen, their sales increased 100% in 90 days, employees' families are encouraging them to work more on Sundays and do follow-ups. I've seen kind of miracles happening when people are totally involved and they own those goals and objectives.
In that part, I have seen that weekly check-ins and scoring were a very important part of the process of implementing OKRs.
Celebrating success and recognising the achievers and the champion who is driving the OKR was a very important part of it because celebration brings a lot of positivity for achieving those goals, so what we have been practising that objectives are very simple and transparent, key results very transparent and simple, very few 2-3 not much, 90 days is my ideal sweet spot where we have been achieving goals.
Tasks can change, action points can change, but we don't change objective and key results, that once fixed remains unchanged. Everybody aligned with that from top to bottom, everybody is working as a team towards that, everybody is rowing the boat in the same direction and whatever is not working on our weekly check-in we keep changing that and most of the time I've achieved over 70-90% success rate in implementing OKRs'
Celebrating success and giving recognition goes a long way in achieving the goals. Everybody remains aligned when top-down goals are implemented in an organisation."
Objectives & Key Results
OKR isn't an old concept, but we at ZingHR have successfully rediscovered it as a strategic business tool that helps align Business Objectives proactively, in addition to achieving them with periodic timelines and monitoring them regularly.
With the understanding & trust of more than 600+ businesses & being in this space for over 2 long fruitful decades, we have custom tweaked our OKR tool, blended it with the right technology and tailor built it with flexibility to suit all organisations, who are focussed on achieving Business Outcomes.
As we all understand the OKR represents Objectives and Key Results, the objectives are set in by the Leadership and it can be aligned and assigned to their team members with defined Key Results, The KEY results are the true indicators to successfully measure your outcomes.
One may create as many objectives for each quarter of the year, and have defined timelines. Each objective can be tagged under 3 broad categories, An Org wide, a Team or Individual in nature. An Organisation specific Objective can be viewed by all members in the Organisation, a Team specific can be focused to any functional or cross functional team and individual is for a self-assigned objective.
Our ZingHR OKR module allows various advantages, it brings in transparency, accountability & collaborativeness, from bottom to top and vice a versa, along with, continuous monitoring, course corrections mid way if required, scope to re-align and re-assign at a shorter time frame, allows agility within teams, goals and structures.