How has Facility Management Sector evolved in this touchless new world?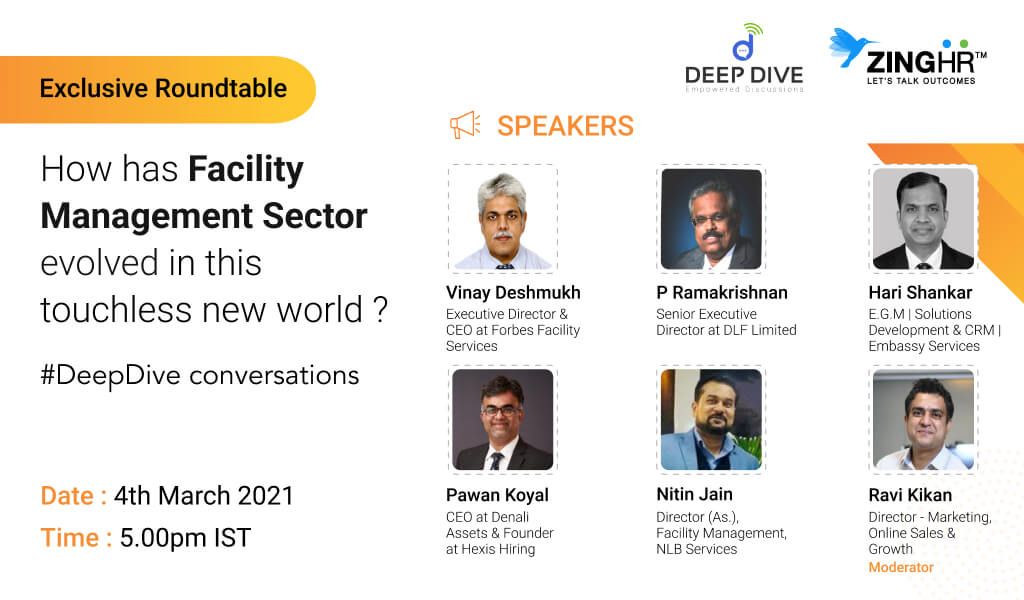 Key Takeaways
Date: June 4, 2021
About the Facility Management Sector
Facility Management contributes to the organization's bottom line by maintaining what are often the largest and most valuable assets, such as property, buildings, equipment, and other environments that house personnel, productivity, inventory, and other operational elements.
Facility Management's contribution to business upliftment are as follows:
Having an effect on operational efficiency
Increasing facility and personnel productivity
Managing facility and personnel risks
Environmental impact reduction
Promoting long-term cost management strategies that are sustainable
Using technological solutions
Reducing or eliminating the effects of natural disasters
Ensured compliance through the use of security
The Facility Management industry is rapidly growing, and Facility Management roles are expanding to include more responsibilities and skillsets. As the built environment becomes more integral to how modern society conducts business, entertainment, and lifestyle, Facility Management budgets and teams are growing in size and impact. With the evolution in the industry, ZingHR curated a Round-Table discussion on 'How has the Facility Management Sector evolved in this touchless new world?'
Speakers | Moderator
Speakers | Moderator (Profiles)
Mr. Ramakrishnan P
Senior Executive Director | DLF Limited
A seasoned project management professional with more than 35 years of experience in Construction, Real estate, Power projects, Facility, and Community Management. Presently, working with DLF Ltd., as Senior Executive Director handling PAN India Projects delivery and is also Business Head of South. DLF is the largest Real Estate company in India, in residential as well as commercial real estate.
He holds an Electrical & Electronics Engineering Degree from PSG College of Technology and a Masters of Business Administration from Madurai Kamaraj University, Tamil Nadu. He specializes in the Design & Engineering of MEP services, Project Management, Control, and Execution.
Apart from his technical skills he has a flair for setting up Strategy, Corporate Planning, Policy Framework, Supply Chain Management, and Skill Development. RK, as he is fondly addressed in corporate circles, is a good team leader & mentor for a lot of budding young professionals.
Before DLF he has worked with Lodha Developers as their COO and Sobha Ltd., as a Deputy Managing Director. Also, he worked with the ETA-ASCON group of companies, ICOMM Tele Ltd. and Tamil Nadu Electricity Board.
His work life has taken him to the Middle East, Europe, CIS & African countries.
Mr. Vinay Deshmukh
CEO & Executive Director | Forbes Facility Management
Having started the organization, Mr. Vinay believes it has been worth learning inception, legal formalities, start-up procedures, registrations, licenses, beginning operations, etc.
He enjoys the challenge of getting professionals to join, guide them, back them with sound policies and values while instilling the vision and mission of the organization and formulate systems to drive performance.
The involvement with finance to ensure healthy cash flow, taking up premium positions in the market to ensure funds following in for bettering operation and infrastructure, and preparing for growth is what gets him on his toes.
He creates the pyramid of organization and then ensures that everyone grows together as a whole bundle.
All this is made more meaningful and formidable in terms of achievements and success continued for more than 3 years.
His specialities include knowledge, skill set, vision, humility, leadership, getting people to work towards specific objectives, technical knowledge, and understanding of organizational behavior.
Mr. Pawan Koyal
CEO & Founder | Denali Asset Management & Hexis Hiring
Pawan has been responsible for driving Denali's transformational vision towards a world-class integrated township and Smart city management company.
With over 24 years of experience in India and abroad the following major roles; 12 years at JLL Facilities Management Business, West Asia, he served in multiple roles culminating with Regional Business Director West India, Sri Lanka & Bangladesh and managed clients like Accenture, Capgemini, JP Morgan, Reliance Industries, etc.
He also received top awards at the APAC level for Innovation in the fields of Procurement, Public Transport, Technology initiatives for 3 years in a row. Internationally, he was the Corporate Services Head, GCC at ABN Amro/ RBS and built the first Gold LEED Certified building at Dubai Outsource Zone. He was also with Dubai Holding as the Corporate Head of Procurement and Facilities for Tatweer which had Dubai Industrial City, DPG, DHCC, and Dubai Parks as part of the firm's portfolio.
His accomplishments include: managing a business spend of over USD 100 million, a portfolio of 30 million sq. ft. and also managed a team of over 9,000 direct and indirect staff.
Mr. Hari Shankar
E.G.M | Solutions Development & CRM | Embassy Services
An ex-Army Officer, who after serving for over 20 years took voluntary retirement in the rank of a Colonel. He tenanted various strategically important and sensitive appointments, including a stint with the United Nations at Lebanon/Israel.
He then joined the corporate sector and in the last 10+ years, has served with major companies including JLL (Jones Lang LaSalle).
He currently heads the Solutions Development and CRM function at Embassy Services Pvt Ltd, Bangalore. Leading a dedicated team of professionals, he executes business strategies and leads the growth of ESPL in the Facility Management space across various sectors and geographies.
He is a dynamic professional with extensive experience in Business Operations, Logistics, Procurement, Administration, Cross-Functional Team Building, and Organizational Development.
Mr. Nitin Jain
Director (As.), | NLB Services
A result-oriented professional with around 19+ years of experience in General Administration, Facilities Management, H&S, HR, and Liaison Work in the ITES Sector.
With an MBA in International Trade – he has worked with companies like India Today, Ingenico (Tech Process), Hero Group, Artech, ICC. He is an expert in setting overall strategy and drives process improvement with strong business acumen with a broad understanding of fundamental business principles.
He has set up offices PAN India & has built-up around 4.5 lac sq. ft. area across metro & upcoming tier-2 cities. He has successfully gone through audits like ISO, ISMS, SCSR, EICC & RBA. He has achieved a personal record of setting up office space of around 55K sq. ft. area under a timeline of 29 days & is currently working on the automation & implementation of AI in the Facility Management Sector.
He firmly believes in perfection & a Six Sigma approach to be the key to success.
Mr. Ravi Kikan
Director | Growth & Marketing Head | ZingHR
His experience in Start-ups & Enterprise sectors like Media & PR, Fintech, Education, Digital, Retail, Mobile, Healthcare, AI, IoT, Tech, e-Commerce and Real Estate has helped him to launch & grow ventures.
He has worked in blockchain & crypto products in his previous roles.

The author of one of the most loved books for start-ups & entrepreneurs, titled, "How to Validate Your Start-up Business Idea". he even engages with educational institutions to talk to the students about how to prepare for the next step, Future of Work, Digital Transformation, Technology Disruption & Change Management.

He enjoys working with entrepreneurs, enterprises, community builders & investors who are focused on growth. He has been part of start-ups with successful exits by leading start-up operations in a CXO role.
Currently, he is the Director of Marketing, Growth & Online Sales at ZingHR.
Ramakrishnan P
Senior Executive Director | DLF Limited
"I started my career with management services in the international market way back in the 1990s with about 2.5 sq. km township maintenance.
Facility Management is very close to my heart because facility managers are the people who are in front of the entire customer world. Whatever the goof-up has been done by the construction or other services, it all has to be faced by the facility managers on the front end.
Having said that, out of the 365 days, the facility manager works for 363 days to face any adversity. People assume that they sit idle, but for the two days of an emergency, they prepare themselves to act promptly and to handle the entire facility management. That's the strength of facility management in the system.
Even before COVID, in my view, facility management was a very important function. If we take a building for example, if it's not maintained properly, every year, the condition of the building will deteriorate. While constructing a building, you must keep in mind the market trends and do technical due diligence over a period of time to understand whether the building is safe for the people.
There are few areas which have to be looked upon to maintain a building. Number one being, if the building is safe? Be it a condominium, office, tower, or a mall, people keep moving in, stay, work and do various other tasks, and hence their safety has to be of utmost importance. Facility Management does not revolve only around maintaining or cleaning on a day-to-day basis but is also about ensuring that the entire technical services have been kept well.
I consider FM in my top regard. Previously when I moved out from FM to Project Management, even then my thoughts would wander to the design aspect of the space which later led me to shift to Design & Execution. Again, I'm from the MDP background & I've noticed that there are a lot of static & dynamic systems. People might just look at the design aspect of the space & be amazed but as facility managers, we worry more about the functioning.
Having first-hand experience in Real Estate, DLF has got a large facility in residential as well as commercial where we operate. I'll talk about the challenges faced while working with DLF that completely threw us off the table when the lockdown was announced, here's when people realized the importance of FM. During this phase, we've come to notice that no one has ever built a system for employees to stay overnight, there has always been a to & fro between shifts. COVID has brought in a lot of insights to us in terms of how people must be handled. While the whole world sits at home staying safe, facility managers and employees stand in front. Some also say that they must be declared as the frontline people.
I believe, after all of this gets settled, facility management will be given a lot more importance. Honestly, most people think that facility management just includes cleaning or maintaining the upkeep of the facilities, but I go a little deeper than that. Engineering maintenance is the very key – that's how you know the building will be maintained over a period of time and in my view, a lot of people will get into either facility or community management since it is now picking pace in our country. It's a great profession!".
Vinay Deshmukh
CEO & Executive Director | Forbes Facility Management
"I think a very important factor that everyone has awakened to during this COVID era is whether FM (Facility Management) is a part of a cost center alone or should it be termed differently?
But all said and done, it entirely depends on when we go to the office. Today, for people who are working from home, there are two scenarios. One, they are either more comfortable at home and second, working in the office considering all the comfort factors. So, once I walk into the office – how comfortable & productive I am entirely depends on two aspects, one, the design aspect, as to how well the facility is designed, created and executed – which is a one-time attic. Post that, day on day, year on year, it all depends on the facility management in terms of how productive & efficient the people working over there are. Not just the aesthetics, but also the ergonomics depends a lot on how the facility management works.
A major part where I would like to draw everyone's attention is that we as a country have graduated to outsourcing which started in the year of 1980-90s and has caught up big time but we are yet to realise what exactly are we outsourcing. In my opinion, there are two different things that we outsource, cost and accountability. If we consider cost, we're trying to see how we can minimise the cost which means we are trying to find what is the least possible value that we will have to pay. When we are outsourcing accountability, the engineering/technical aspects are very important. Unless they are maintained properly, they will be causing a long-term effect, whether it is damaged or a good effect & that's why we need to understand how effective and efficient people are.
The FM companies have exposure to so many different segments across so many different geographies and by virtue of that, they also keep learning from different customers. That means they are very well capable of taking up the accountability for the offshore services and not just being part of the cost outsourcing.
Coming into the aspect of what the future holds for us – I think the future looks very bright and everybody would agree on this aspect, primarily because what we're looking at is a renewed look, a renewed responsibility or a renewed sense of accountability to be outsourced. At the same time, at the grassroots level, there are different openings coming up. For example, we will talk about it sometime during the course of this discussion as well, but we have talked about the contactless/touchless, to what extent can this be taken up in the outsourced FM field personnel, that will play an important role. Another factor which will be a very important aspect is, will we go to FM and will technological advancement be useful for us? If yes, to what extent and where all can it be executed.
So, I think these are the aspects, which will be very important, and they will play a major role. To summarise I think, we need to understand how the FM will flourish in years to come in the renewed vigour of the economy."
Pawan Koyal
CEO & Founder | Denali Asset Management & Hexis Hiring
"Fundamentally as far as facilities management is concerned, I think it is pertinent to see that they are two separate things.
If you were to see where we are here in India and if you were to see where we are in the current state of affairs versus what's happening in Singapore, US or even other countries, then we will see that there is a very clear demarcation or there is a clear progression from transferring of ownership of having a clean and liveable environment from purely the housekeeper or the team on the ground to everybody.
So today, there is a whole thing about the sphere of influence, and we now talk about what is it that we can control and what is it that we cannot control. But at the same time, we need to be aware about where & how the whole concept has changed in facilities management.
Earlier, the employees didn't care, they thought that they would come to the workplace and everything would be done, dusted and ready for them to use, abuse, and walk away. When it came to residential, everybody wanted to know "how could they get the same service at the cheapest cost?" and so, all the association arguments on Sundays would be around saving money and getting the best out of the people who are serving them.
While the whole concept of touchless was so hyped up in the last year. Now, an increasing number of reports are coming in saying that the whole concept of touchless may not be required. Since the transmission of developing the virus by touching a surface is less than 1%. Even the medical community has come back and has kept on changing its stance. The latest being that it's airborne, right? So where is the question of touchless? Once you're in a closed environment – unless everybody starts working in parks and forests. There is no way that you can say that I'm safe.
Frankly, from my perspective, I think what is important is the use of technology to very clearly identify what can potentially be understood. If I come into a workspace and I realize that 3 other people are working in my same work zone and they are all currently safe and healthy, then I have a higher level of confidence of coming to work in that space. Whether it is relevant or not relevant in the long run only time can tell but, today at least as an employer I want employee productivity to go up. All the facilities managers have moved from maintenance or cleaning to health and safety.
We are now becoming the gatekeepers of making sure the facility is ready for people to come and work and be productive. That is the threshold and you can't start without that. Once you've moved in, then you want to make sure that you have space. So basically, people want to be confident in terms of knowing that they will be working in a space that is sanitized, healthy, and ready to be used and it can be a coworking space, working from home or working from the office. As far as there is someone in the organization they can trust, namely the facilities team, that, will add value to the facilities team.
I agree that today the role of a facility manager has changed with the use of technology and subject matter expertise. I request every facilities manager not to cut, copy and paste. Your situation is unique and no amount of expertise that people earn by reading articles is enough. Understand your environment and what your solution is going to be – maybe different or similar, but it needs to be understood first as the most important piece in, the continuation of business & making money for the organization. Definitely, there is one side, that is cost savings where we say that there's no need for 10 security guards or 20 housekeepers, can I do it with half of them? Yes, there is a possibility because the office doesn't get used as much but also, the employees have become more aware and they have to take part of the ownership to make sure the facilities are safe for everybody in the organization and technology is where this amalgamation or integration can happen and I don't think there is any walking away from technology going forward."
Hari Shankar
E.G.M | Solutions Development & CRM | Embassy Services
"When I got this topic, I knew that I would like to speak here. I was just jotting down a few points. I did it in three kinds of buckets, namely people, process, and technology. When I was writing about people, I realized that as far as people management is concerned, we have come back to the basics, because at the end of the day we realized that engaging with a drive, motivating the workforce and ensuring that they are there on ground and working has become extremely important.
Pre-COVID times, if people were fewer or if there was someone missing, you had a crowd of people waiting to join outside. But now, with reverse migration and the fear, no one was willing & even if there was someone willing, there would be a problem of transportation, food, etc. There was a stage where, even when you are willing to pay, there was a shortage of people and even if a person is coming, there is a feeling of fear and insecurity in his mind leading to lower productivity and increased problems at the site.
What we did and I am sure most of the people also would have done is as the engagement increased, we ensured that the transportation, food, stay, etc. are taken care of – especially the technical workforce did their job best so that the people from the client-side could work from home because the data centres, hub rooms and all the other server rooms worked efficiently well at the workspace.
People management became extremely important from an FM service provider perspective and also from a process perspective, we evolved very fast. The backend teams whether it is Procurement, HR, Finance or any other support functions they immediately rolled into a work from home culture very soon and I think that happened seamlessly. The support in getting the passes, various new equipment's required, chemicals and other machines which had to be brought in and various sanitizing agents, which were required. I think that part was handled quite well.
And the last being technology, which is probably the key. Once you've taken care of people; processes, & equipment will then fall in place. But COVID is going to have a long-term impact on how technology is going to be used in FM.
Touchless is probably one aspect of technology, but ensuring that all the other tools whether it is supporting the technical services, housekeeping services – whether it is the humidity and temperature sensors for the hub rooms, etc. all of it working together and in tandem, enabling a client sitting at home also to know what is happening in his workspace – these are the things which are going to be more important in the future.
In one way, COVID has hastened or I would say enabled faster acceptance of technology and technologically advanced solutions rather than being pushed aside due to budget constraints. So, I think that is faster absorption and it has become better for the FM industry.
Nitin Jain
Director (As.), | NLB Services
"The topic I want to highlight is Facility Management Budget. Initially, every time we'd present our budget to the management, they always put a control on it, but with things like the touchless environment and hygiene being the priority when companies reopen, the budget allocation will be decently put through.
While FM is being monitored, space and cost optimization plays a major factor. But now, we need to inculcate or educate the employees as technology has a bigger role now. Once technology and FM get amalgamated, it will be a new world for all of us. Every day is a new learning experience for us mainly because the protocols are changing and so is the health and hygiene system.
The future of the FM industry is bright, there's no doubt about it, but, while I was surfing through Google recently, I read that, by 2026, most of the FM managers will be retired, according to IFMA. So, in a way, these 2-3 years are good for us. Why I say that is because now when the company's higher management graduates, they will know how to handle the situation.
Coming to outsourcing, it is one of the areas which is rapidly increasing in India as well as abroad. The increase in outsourcing the FM industry to a third party has increased by 5-6%.
Gradually, robotics and artificial intelligence will also pump into the system and then the presence of people will no longer be required. In the U.S, they have incorporated robots for cleaning as they have a defined schedule to be followed. With time, India will also adopt the robotic culture.
The question still lingering around everyone's mind is, why do they need a facility manager? They need to understand that, post lockdown, this is the area where most companies are now focusing on as everything's on hold, they want their rents down. Real estate companies with a larger area are now downsizing. Research says that we are heading to work in a hybrid environment wherein 100% attendance is not a mandate.
But yes, once it's time for workplaces to reopen, keeping in mind the social distancing guidelines, it is going to be a challenge for all the facility managers.
Companies are now planning to get in a CPO i.e., COVID Protection Officer. They will be the ones who will be managing the safety, hygiene, security or even social distancing. This is what I've gone through and I've seen companies that are now appointing CPO or maybe are redefining the designation of the existing people.
What I've understood after all these years is that we've been learning from the mishappenings of the industry. COVID is the reason that we have become dynamic now."
Question 1: How do we ensure the productivity of the blue-collar and white-collar employees during the pandemic? & how can we measure it out?
Ramakrishnan P
Senior Executive Director | DLF Limited
"Before we get into the blue-white collar productivity topic I'd like to talk about a few other things.
COVID is a very recent phenomenon to which we are all gearing up but everything that we are supposed to do in FM has all been mentioned in the bible of facility management. Now, whether that is being followed is the question. We need to touch upon the Dignity of Labor. Generally, In India, the construction itself has no dignity of labor. That's the biggest flaw! The reason why I am a contractor is because a developer cannot do that work. I'm a specialist in my own field that is why you are banking on me & so, I have to uplift the Dignity of Labor by leaps & bounds. In any case that is another big debate, we can separately touch bases on.
Coming back to the white and blue colored jobs, In my view, both of them have to be treated equally. As far as productivity is concerned, it is very subjective and measurable. Today, there are some things that can be quantified in physical work. For example, how much area a person is managing so that it can be easily measured.
But here, you should understand that I am maintaining a system which has been built. And today, technology has gone to an extent wherein it can help me do a lot of productive things. If the capacity is exhausted, I've got enough systems available to tell me when it will fail and for that I don't require productivity, I need information!
A few years back, we did a complete study on the facility aspect of one of the largest Real Estate as well as the largest IT company. 97-98% of the real estate of that IT company has been built by us. The kind of sensors we put, be it in water, electricity or even on facilities and also the information, which we started getting in, that was intelligent thinking. People may even be upfront and ask why would they have to spend so much? My only answer is the result which we get. The outages which we are getting can be easily substantiated. Everything which has been done in the last 2-3 years, I've got the entire cost recovered.
In my view, productivity, especially in the blue-collar jobs where we would maintain different kinds of productivity norms – the facility managers should start thinking a little differently moving ahead. Let's divide it into 2-3 segments. One, being the commercial assets or office assets. They generally get into CAM i.e., Common Area Maintenance, because if any developer is able to get the best CAM, then I have got an edge of leasing it out, by improving my productivity, multi-skilling & making sure that people are maintaining it and at the same time the asset is with me and I cannot deteriorate it. This in itself is a tradeoff between what has to be done and how we are able to get different people. But the moment I walk into a mall, it's a similar kind of scenario, unlike residential commodities which need to be treated differently. If you look at the kind of money spent to assemble a maintenance team, for example commercial assets, we need to get a team that understands the processes. That has to be dealt in a different manner.
It is also the duty of all facility management companies to conduct a lot of sessions. If you don't maintain a property, you're deteriorating and degrading the value of your asset & that has to be taught to the entire company properly. At the end of the day, I have also managed a lot of maintenance & condominiums in the last few years & whenever I get into it, I take the example of painting an asset. The moment you think of painting a building, people question you. But imagine if you don't paint a building in periodic intervals, you will only end up deteriorating it. So, this is a big tradeoff between what is required and how we can convince them.
Another thing we should look at is the cost centre. Today, we've got so many self-proclaimed FM companies that enter the market with minimal to no knowledge about the industry & thereby cause a ruckus. So, if the facility managers and the engineering community in this country can start to bring in that change then, in my view, a lot of dignity will come into this field. People will start looking at it as value for money for the facility managers to maintain the property. You need to put your protocol & expectations right. That's the way forward & one good thing which has happened in COVID is that people now know that FM is a very important function. I cannot play with Tom, Dick, and Harry in the system. There should be a proper facility manager required who understands the entire system and gives me an excellent place to work or live.
Going back to Nitin's question on getting rents though it's very sensitive information, but to answer that – I have leased out the assets because at the end of the day, as long as the asset is with them, they have to pay me. I can give them a rebate because I also know the other side of it; the lost revenue. But, if you look at the balance sheet of most companies in the last 1 year – how many companies that you know have shown less profit or loss? All banks were asking their tenants to reduce their rental, but, tell me, even if you take the top ten banks & have a look at their balance sheet and the kind of results which have been declared you will not be so surprised.
Ravi Kikan
Director | Growth & Marketing Head | ZingHR
I think that's a great point that you have mentioned and I want to credit this point to you. It's a state of healthy economy – when we're going through a recession, it's only for one sector here. It's not for all sectors. Real Estate has been at the top of the pyramid which has been hit left, right & center and Facility Management being a subset of Real Estate, has been hit as well. But what you have mentioned is a very valid point.
Ramakrishnan P
Senior Executive Director | DLF Limited
It's not a fair call to lower down rents or other costs because at the end of the day, if there is an asset, I understand that I can reduce some of the cost but in the end, I have to pay my employees. I may not charge for consumables but I have to give salaries to my employees because I can't just dump it. If so, where is the Dignity of Labor & the social changes that we talk about?
Ravi Kikan
Director | Growth & Marketing Head | ZingHR
Adding to this, some time back I was talking to one of the investors that I previously worked with in the coworking space, and the tenants were negotiating but not moving out. They were negotiating for a price down. So, the gentleman who interacted with them asked them a simple question. He says, look, if you've lost money in the last 6 months, on that pro-rata basis, I can reduce it. But, what if you have gained money and gained twice the money that you have earned in six months? Would you increase my fees? The answer was flat no on that, right? So, I think it is important to be on both sides.
Ramakrishnan P
Senior Executive Director | DLF Limited
One thing I'd like to say is, it's high time for people in the facility management spectrum to start getting into a tremendous amount of training sessions which is required for this industry, because most facility managers have not taken facility management as a profession from day 1.
Ravi Kikan
Director | Growth & Marketing Head | ZingHR
Question 2: This brings me to the second topic. Is there an accredited agency in India that provides Facility Management courses?
Pawan Koyal
CEO & Founder | Denali Asset Management & Hexis Hiring
There are agencies like IFMA & RICS which are present globally. There are various agencies like these that are present abroad, but, unfortunately in India, Real Estate in itself is not recognized as a sector. MBA colleges have started including modules of Real Estate and Construction as part of what they do and it includes Facilities Management, but still, it's very far off. So, what we have done is – we have built our own e-modules and that's what we do full time, but yes, a lot of training is required and I completely echo what Mr Ramakrishnan has said.
Hari Shankar
E.G.M | Solutions Development & CRM | Embassy Services
Just to add on to what Pawan said, in India, NSDC i.e., National Skill Development Corporation has set certain norms for different sectors. So, the blue-collar workers or the technicians, electricians, plumbers, front office, reception etc. for these kinds of people, there are set courses which post their completion gets them certified. They also get a NSDC certificate. It is a proper government authorized training and I have gone through the syllabus myself. They have been set with a lot of thought and if the training is executed well, I think the end product will be brilliant.
But there are two problems. One, is that we do not really ensure or insist that a person should have this kind of certification. We hire anybody and everybody and ensure that they get the OJT i.e On the Job Training. I think it's an injustice that we are doing to our own industry by not recognizing and insisting on people having this valid certification come on board.
Second, we do not insist on a proper training curriculum. We need to have refresher courses going on maybe one or two years down the line – and if an employee is going to become from an electrician to a senior electrician, senior technician and then to a supervisor and keeps going up the chain to become an assistant facility manager, etc. There are only personal standards that are set by different companies, there is no industry wide standard, which will say that an FM with qualifications or experience must reach a certain level, so these are certain places where industry leaders and companies need to probably split.
Ravi Kikan
Director | Growth & Marketing Head | ZingHR
These are primarily blue-collar, right? These are not leadership hygiene rules. For example, would it qualify or quantify for somebody to run a facility of 50,000 square feet area end to end in these times? Will that qualify that we can run 100 feet or 5-10 thousand square feet area end to end with safety for 50 blue collar employees?
Ramakrishnan P
Senior Executive Director | DLF Limited
There isn't any certification, but then again, speaking with experience, Gulf is one of the areas wherein Facility Management is considered one of the good professions.
Pawan Koyal
CEO & Founder | Denali Asset Management & Hexis Hiring
I agree with Mr Ramakrishnan, because the technical fraternity in the Gulf originated from the Oil and Gas industry and then they moved on to Construction and Real Estate. That's why the level of health and safety, level of engineering and even construction itself is of a threshold quality and therefore they have to build in the design of a lot of pieces, which are completely missing in India.
Ramakrishnan P
Senior Executive Director | DLF Limited
I used to manage a Facility Management company based out of the Middle East which had a strength of over a thousand employees. Thousand people is not a joke in Facility Management.
There's a company called Engineering Maintenance Company based out of Dubai. I used to have about 600 people in one project. It's a 2.5 square kilometre township. It's broadly divided into: HVAC, low voltage engineering, electrical & civil engineering. I would manage them all.
I've not touched the cleaning services – it's just engineering maintenance to the highest standard. From STPS to water treatment plans to independent houses to bulb changing, everything has been addressed. The kind of business model which they would follow is: Bill 1 is the manpower that is supplied, Bill 2 is the equipment that is supplied and Bill 3 are the consumables that are supplied. The business model followed was amazing! I tried my level best to implement it in our company in India but they would give me a square foot price which restricts me to maintain a certain level. I would have had to compromise.
The people don't understand that compromising will only lead to deterioration of their asset quality. A fundamental change has to happen. Unfortunately, the Indian Construction industry was slowly picking up but after the IT explosion, it fell back. After 94-95, a good chunk of companies shifted to IT and there was no Dignity of Labor left in the construction industry.
Facility Management is an offshoot of the construction Industry because the people have to get trained. Although, I strongly believe it's a great opportunity for all of us. We should strive to create a set-up so that we can start exchanging ideas. We should create a sense of urgency in the entire community about Facility Management being a great profession and through various institutions like RICS, we should start focusing on creating a system for facility managers.
Ravi Kikan
Director | Growth & Marketing Head | ZingHR
Question 3: From a facility point of view, how has the deployment of technology or software services both as a provider and as a consumer, evolved or is evolving as you see? Do you think there is a scope that you've not used or would want to use? Or is it something that you have experimented with?
Vinay Deshmukh
CEO & Executive Director | Forbes Facility Management
There is a very close relationship between the life of the asset, the condition of the asset, and facility management.
All of us might have visited a world renowned hotel, which would have a floor mix of two types – checkered tiles. One is leather and the other is marble. Aesthetically it looks good, no doubt but how is one going to maintain that? As we know, leather does not want water while marble on the other hand requires a different treatment. So, planning out a proper design is crucial.
In the second example, we are talking about a 5,000,000 square feet residential complex with around 60 swimming pools. Now, the facility has the swimming pool's discharge connected to the STP. How is the STP going to function? It doesn't have the biomass nor the bacterial load.
These are the points, which I'm trying to bring across as to why the creation of the assets that are designed in the facility management are so correlated. Ultimately, these are the factors which are going to lead to the productivity of the people who are going to use those facilities.
Coming to the technology part, today, the world has moved so far ahead that we are well aware – if we're sitting in an AC environment, we know that our skin gets drier and loses some amount of calcium. So, people have now come out with products like air purifiers & the ACs, which will secrete that amount of necessary ions to create a natural healthy atmosphere. Studies have shown that if a person is sitting in an AC environment, after about three hours, the person starts yawning, not because the person is bored, but because it is the physical reaction of the body. So, to counter that and keep the person motivated and energized these are different types of technology, which have come up and we must embrace them!
Now, particularly to the Facility Management part with technology integrated with it, we have heard of robotics and would be wondering why it is not getting more prominence in India. I would say, it is because of its limitations because robotics can only work on a set schedule. They move away from any or all obstacles, that's how they are designed. Now, people are experimenting to improve robotics to a level wherein we could employ it at a large scale.
Currently, we are experimenting with a US based company where the QR codes are generated and they are placed in certain areas, they are linked to the CCTV and this gives an automated measurement of what the Facility Management company has done. So, when we give a proposal, we say that these areas will be cleaned thrice a shift. These QR codes are going to give us the efficacy of that lead – a technology that wasn't available earlier. Now, any janitor carrying a smartphone can use the tech and then it can get embedded onto the reporting. So, these are the kinds of things that are coming up and have evolved and we are making use of that data.
Another aspect that we must focus on is training. Facility Management is a very simple business, agreed. But the business has many variants. There are so many different things to be taught that it becomes vital for learning and not just on the technical aspect. His/her interpersonal skills are to be modified to that extent to enable the person to sustain & to win over in that position and then start looking forward. Same works for a different level, we need to have a good training program which will enable a resource to become a resource mobilizer. That's a very big shift for the white-collar people in the industry. Yes, there are very good programs in IIMS, and ISBs and people are making use of that but when we talk about people below them, every company is developing programs. A merger of technology and learning with the right training programs in the training needs identification, I think that's what is going to lead to the success of this industry.
Ravi Kikan
Director | Growth & Marketing Head | ZingHR
Question 4: What do you think in the software & technology space for learning or for the evolution of facility management? How is this evolving? Do you think there is a need to do this? Or is it okay and we'll be good to go?
Hari Shankar
E.G.M | Solutions Development & CRM | Embassy Services
"I think the merger of technology with the FM should address three levels of management. One being the workforce, a guy who's finally at the front end, a technician, a janitor, a pantry boy – they should know clearly what is to be done and the technology should help him do that.
While training will tell them how to do things, and it will make their skill set better, I think the task that needs to be done is something which technology can help by digitizing the checklist, by ensuring that the correct parameters are taken from a particular system or other parameters that needs to be automated and technology can help in making that workforce drive work better.
The second level is the supervisory level, where a supervisor should know who's doing what, who is a better employee, is there anybody feeding wrong information, the ideal allocation of workforce, is there any optimization possible, finding the right employee and rewarding them. The supervisory level with the help of technology should enable him to do all this.
At a management level or at a senior level, we should clearly know if from a compliance perspective things are happening correctly be it building compliance, labor compliance, BGV compliance. We also need to understand if there is transparency in operations, what kind of savings can come in from an energy or manpower perspective. At a higher level, one should be able to notice all this. So, I think technology, instead of just branding, is a good thing. It is important to break it down into these levels and see how it really impacts a particular level of a stream of work. Just to give an example, we're working with an IT client, managing more than about 12,000,000 square feet for them across 12 cities in the country. So, we have enabled energy usage for digitizing the energy meters across all different sites and have put them onto one dashboard that includes KPIs, attendance of a staff & fuel management for the janitorial workforce, cleaning management, technical workforce and inventory management. In COVID times, we understood the importance of it and have been appreciated by our clients as we are able to showcase this since actionable information is coming out from it. All this is available, and the right selection and right implementation is probably what we need to do."
Nitin Jain
Director (As.), | NLB Services
The future for FM is software technology, artificial intelligence & robotics. These techniques and the system needs to be incorporated in FM. To give an example, once we reopen the office, on the backend of NLB services from the company point of view, we are working on booking a desk through a software. We are creating such an environment wherein you'll be booking your seats in an office and it does not have to be a specific seat where you'll have to sit every day. It will be a hybrid working environment where you'll need to book a seat – same as you'd do in a theatre. And so, you can see the structure & book your seat. There will be capping that 25%, 30% or 50% of employees can come in, & go and book their seats accordingly on a software.
Going forward, there will be a virtual or visual directory wherein people would be able to view who all have booked their seats and which employees are coming in on a certain date. This will show the availability of seats on a daily basis. Also, when we talk about AI, once we reopen, a lot of challenges will be coming our way. For example, we wouldn't know at what temperature or humid level would the virus spread faster, because June & July are peak seasons where we would have to switch on the AC, & have a control on the humid level through AI.
Ravi Kikan
Director | Growth & Marketing Head | ZingHR
That's from an understanding perspective of the working environment, right? So, unfortunately, we still do not know whether the vaccination is going to work or not. I think till the time we know the humidity level concerns about the virus, we might require a report from the WHO & it will not take less than two years because we do not know which is the right authority to give information. There is no right authority right now except for the Medical Authority of India, which we refer to.
Pawan Koyal
CEO & Founder | Denali Asset Management & Hexis Hiring
I think there is a huge issue of sheep mentality. Since the whole show happened, nobody guarantees whether that vaccination will protect or not protect you, but, since I'm a living example, I'll tell you that I was working throughout the entire COVID period from last April or March & I got COVID only post taking the vaccine. So, I think there is a reality and a fear. Everybody is rushing to say that they've started cleaning their facilities thrice – every three hours, or every one hour. I've got these guns everywhere and tunnels everywhere. But Ravi, what you said has maximum value which is, having patience. We should wait to see how this moves forward, because everything that has been tom tom from day one has been turned around as the time has gone by. Today, there is no benchmark on what is the right thing to do. Yes, there is fear amongst everybody. Someone from my last session mentioned that whatever a person does at the workplace is only a very small portion of the environment that a person is touching – from traveling in cars, buses, trains or even going to the market. All of this isn't happening in a controlled environment. So, while companies may be doing the job of saying that they have controlled the environment, which is their workplace, there is no way to say whether a person is infected or not, and therefore the efficacy of each of these initiatives has only a limited power or a limited guarantee. But yes, if we use technology, in the long term, this is the way to go anyway.
There was a time, when I first joined FM, security guards would only get paid 8k, now, in a few states, we've got to pay them around 27-30k per guard as they are more trained than they were before!
Few of my IT clients have even requested me to not discuss their salary as the guards get paid more than a few of the IT personnel. If you want to be compliant and be legally aligned, then definitely you have to pay that salary, and once that happens, then it will be a push automatically towards using technology and automation. By definition, Facility Management is about doing repetitive processes. The moment you say, a process can be repetitive in nature, you can automate it, and the moment you can automate you can bring technology. Therefore, making a definite approach to managing it more efficiently and better. Technology in COVID started with temperature reading, facial recognition and then went to privacy issues and so on. But, I think, everything finally will get driven towards technology. Especially today, when we are talking about so many industries which are associated with Real Estate are in doldrums because employees are not coming back to work. It's not a good picture. Yes, business will grow and will continue to happen and a lot of other industries will grow, but, Real Estate, especially the commercial Real Estate will have an impact if malls are shut down and cinema halls & food courts are not allowed to work. They are the driving factors of the mall.
If you look at controlled environments with so many things that can be done, the approach to the COVID response and the discipline that is being asked by the government with the lockdown restrictions are sometimes not very logical. But, I think, it's all a fight or flight response. Everybody doesn't know what to do and therefore whatever comes to mind, they just implement. Their thinking goes as, "let's do something first and then worry about perfecting it later". As time goes by, things will get perfect, but I don't see a world without using technology, especially in FM.
There is a fight happening and there is an issue with labor saying that we have not upscaled them. We did mention to them about training and how much it lacks. There is nobody else to blame but one must understand that – the more training was done in the past, the more the laborers left the employers. The employability is opposite to the amount of training done. In India, as Maslow's hierarchy was mentioned, social needs are still at base level. So, if I get Rs. 500 or Rs. 1000 more then I would definitely jump, because it would mean an EMI for a cycle, a TV or for my house. So, I'm saying that yes, unfortunately it is true. Technology is becoming cheaper and manpower is becoming more expensive.
If COVID has taught us one thing, it is that there is no guarantee that what works today will work tomorrow. Therefore, there is no other way out but to become smarter in the way we run our facilities before somebody else pushes us to do so."
Ravi Kikan
Director | Growth & Marketing Head | ZingHR
I would like to add that, at our level when we talk to people – for example, this forum, our objective is to instruct and build technologies which are favorable across the genre in that field. So, if I don't build touchless technology right now, which we are and we have successfully deployed it in enterprises, the blue-collar versus white-collar versus the problem that you are facing at the top-down level we will not be able to help you run it smoothly. What and how the entire spectrum of your workforce including the blue, white and your clients effortlessly are in a business continuity process? If I don't understand those things, I'll never be able to help you out. Like Vinay mentioned, a QR code so we have all those things set in place. These were only what we got once we heard people say that let's have these things in place. These are all transferring instruments in a touchless world, right? But, I will agree with you.
Pawan Koyal
CEO & Founder | Denali Asset Management & Hexis Hiring
As automation came in, especially in housekeeping – we talked about large machines like vacuum cleaners and so on. I had an opportunity in India to roll it out for a very large facility with almost 15,000 people coming to work on a 500-acre campus. Within 3 months of importing and installing around a crore and a half worth of machines, they stopped working. The reason being, the employees who were supposed to run them; the housekeeping, supervisors and the technicians were worried that this would take away their jobs. So, there is a push back, there is an emotional aspect of implementing technology that we have to be careful about. We should make sure that it works with the people rather than against them.
Ravi Kikan
Director | Growth & Marketing Head | ZingHR
Question 5: Do you think technology will be a great helper or facilitator for the Facility Management companies for both their employees as well as their clients in the coming times? How fast should they deploy it out? Are they late in deploying, or should they look into the future and deploy them?
Nitin Jain
Director (As.), | NLB Services
Here, it depends upon industry to industry. For example, if I talk about e-grocery, in these last couple of months, it has shown a drastic improvement. If you have a bigger space and you need to incorporate AI or maybe software it will certainly be helpful for the companies. As I mentioned before, in the longer run there will be a reduction in manpower, blue-collar workers would not be required as much.
As Mr. Ramakrishnam rightly mentioned, if AMC and periodic maintenance are required and if we feed in that request in the AI platform, we get to know how it needs to be worked. Very few people would be required once we inculcate all of this technology. This will be good for companies, but I'm unsure if the manpower will decrease or increase. Also, I believe the future is robotics!
Ravi Kikan
Director | Growth & Marketing Head | ZingHR
I think manpower will increase because everything is increasing. So, the thought of saying population will not decrease but, in turn, will increase every year!
I used to work in a media company, way back in the 90s. Our CEOs were having a discussion with all of us and he said, a day might come in the future where digital books would replace newspapers and all of us sitting there wouldn't understand what he's talking about. He said, everything will get replaced by digital assets, the newspapers which are in circulation of 1,000,000 now will be reduced to half a million!
Two years down the line, in the same company, as I grew up the ladder, we understood that newspapers have doubled in two years; while digital onboarding has also increased by double.
So, I think it is imperative that you work with people who can see through these forecasts as very natural progress. While automation will increase the workforce – somebody has to be responsible for the automation, right? So, the head of technology people who build that out might increase. Yes, the deployment part might get affected. So maybe, Facility Management companies might have more technology and healthcare specialists onboarded rather than blue-collared job people who will do those things.
Question
Ravi Kikan
Director | Growth & Marketing Head | ZingHR
Question 6: As a concluding statement, what are the top 3 things that will be the key drivers of the Facility Management industry which all non-tech persons should look into in the coming 2 years?
Ramakrishnan P
Senior Executive Director | DLF Limited
"If you look at the new way of working, I don't think this industry will come down because whatever we see, the trends in the industry, though there are different comments coming from different industries – TCS was mentioning, 70% will work from home and 30% from offices. The next day, some other company comes in and claims that they are expecting to increase the occupancy rate. There are 2-3 things which companies must quickly look at since technology is going to be a driving force in the next couple of years. The entire industry has to gear up to use technology. Also, in my view on the technology space, wherever there is a safety of a human being under question, there, technology has to play a role. Let's take for example, facade cleaning – a lot of the technology has started coming into those areas. It's inevitable, in my view. It will also help identify the areas of safety concerns for human beings. In such areas, technology intervention is required.
A lot of companies have started coming in and I strongly believe since the new normal has started giving a lot of thrust to the Facility Management personnel, people will now start looking at this industry to come in and work. These are the points which I feel must come to the immediate attention of FM managers.
Vinay Deshmukh
CEO & Executive Director | Forbes Facility Management
I have no doubt in my mind that the industry will go up. There is pressure because of the reduced requirement for the time being – lesser commercial space and other things, but we also need to understand that we have a very unique demographic. The records show that about 32% of our population is going to reach the working-age in this decade itself, that's a huge number. Where are these people going to work from? Even if we go by the proportion of 70% working from home and 30% working in offices, they will still need that much more office space! So, again, from that aspect, I don't see any doubt in terms of the industry going up. The second reason being, if COVID has taught us anything, in my opinion it has shown us the importance of Facility Management and the importance of being partners with the Facility Management.
Slowly there is a shift happening from being a cost center to a partner and that shift is a very healthy one. The mute aspect of that is the conversion of the businesses from the unorganized sector to the organized sector. There is more and more expertise and people coming in. There are more educated people who are coming to the industry and have started contributing. So, the trust, delivery and performance of the industry as a whole, has gone up exponentially. I think these 3 factors are very essential and important for us to understand why the FM industry is only going to look up – whether we achieve our 12% growth for the GDP or something else, but this industry definitely has a very bright future!
Pawan Koyal
CEO & Founder | Denali Asset Management & Hexis Hiring
I agree, I think all the points are covered and in my opinion, Real Estate itself is growing. With the incoming of REITS and professional fund managed investors, a lot of demand for structured services will go up. There is a demand for a line of sight. It cannot be just back of the envelope calculations anymore and therefore, residential and commercial spaces will see a lot of focused and structured investments.
So, funding will mean that you need somebody who has the understanding and uses scientific methods to be able to deliver these services. Be it using technology, automation or using the people with the right processes. Yes, there is a mixture of people, process and technology that we talked about earlier. But, I also agree that there is definitely going to be some pressure in the current system till everybody resets this into the new normal. Once that happens, I think, as a country, we are definitely going to grow, and as a very small part of it, the FM fraternity is going to be in really good times."
Nitin Jain
Director (As.), | NLB Services
I completely agree with all of the members. For the next few months or once we are back to reopen our offices, it will be very challenging for all of us to have the protocols in place and see what guidelines seem to be followed.
Heard the experts talk? Now here's what the audience and others in the industry think. We conducted a poll to find out the challenges that people are facing in this sector.