How can organisations transition smoothly into the first Unlock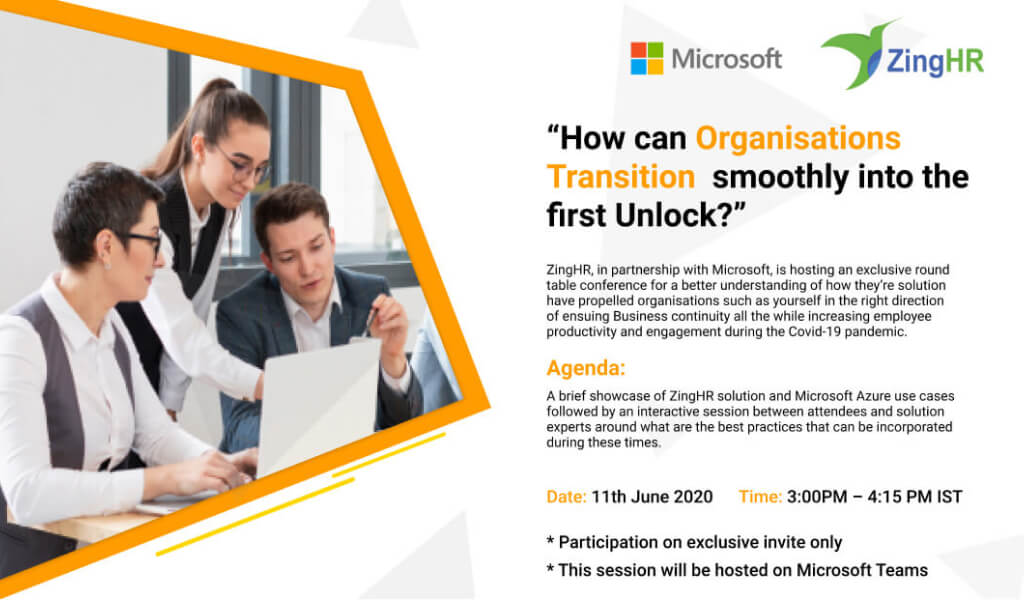 Introduction:
The inception of having such a virtual round-table came through ZingHR's collaboration with Microsoft.
Repeated engagements and interactions between the teams led them to this concept of conducting a unique forum with the highlights or center of attraction being nothing else but the participants who join in, to discuss and ideate new processes, policies, frameworks, basically overall solutions and best practices, that can help organisations in transitioning into a possibly dystopian reality. What can be implied by that is, with the current predicament that global governments are in due to an endless amount of changes one cannot predict what the near future is shaping up to look like anymore and hence, it is essential to come up with fail safes and contingencies to ensure that critical industries, especially Manufacturing and Pharmaceutical, are functioning at their best capacity. This can also be viewed as a contingency to try and mitigate the adverse effects of inevitable economic instability that is already underway.
Objective:
The main agenda behind this round-table, was to gather leading industrialists, such as CIOs and CHROs from leading organisations primarily under the Manufacturing and Pharmaceutical vertical, and have them share and discuss challenges faced, solutions undertaken, and what the future might possibly hold for such organisations in India.
Speakers:
Solution Experts:
Ms. Shoma Bose & Paras Gupta (ZingHR): Their insights on ZingHRs capability to help propel organisations towards a more productive future that is completely WFH compliant, and how an HRMS based solution serve the needs of many in this fight for maintaining productivity and efficiency for employees (industry agnostic), was well received by the crowd as it set the tone for the discussion.
Outcomation was the main talking point here, which is a trademarked term coined by Mr. Prasad Rajappan, the founder and CEO of ZingHR. What the term means is essentially is the ability to derive tangible business outcomes or results, which is exactly what they hope to achieve through the application of their HRMS platform that can enable and impact users across all across all roles in an organisation.
Mr. Harneet Singh (Microsoft): A brilliant showcase of what Microsoft has envisioned and is currently performing in terms of business continuity. Their key take on Digital Transformation is the hottest subject across all industries, since it is the quintessential concept that will help all organisations turn "Agile", enable new remote working frameworks, and also ensure complete Data security and privacy while doing all of the above.
Digital Transformation is essentially adopting rapidly changing and continuously evolving technology in order to overcome several common challenges encountered by enterprises. It advocates the use of cloud computing over sheer reliance on user owned hardware that helps in achieving faster and better outcomes, with greater flexibility.

Moderator: Mr. Sanjay Kamath (ZingHR)
Keynote Speakers:
Mr. Shibin Chulliparambil (CIO at Mafatlal Industries):
Mr. Shibin is currently the lead incharge of the IT infrastructure at Mafatlal industries, having more than 19 years of strong experience in the field of Information Technology , working on the ground leading & managing the team with many successful projects under the wings.
Having a long and industrious stint spanning across 14 years at Cipla, 5 of which were served by him as the head of IT. His experience in the field of IT is vast, having first completed his studies through Mumbai University, followed by a degree in Computer Applications from the Madurai University.
His opening note was around the dominant Work-From-Home (WFH) culture, which has swept across the globe due to the Covid-19 situation. According to him, this might be a new era wherein a majority of work profiles might be permanently seen as a WFH function, however it is crucial to note that there are still a few job profiles which can under no circumstance be performed through Remote Working.
Scalability is the main concern to focus here, since we are left with the problem statement of how can these particular key profiles be enabled to operate out of any remote location
Mr. Kapil Mehrotra (CIO at National Collateral Management Services ltd.)
Mr. Mehrotra is responsible for Information Technology and is currently working as the CTO(Chief Technology Officer), NCML He has around 23 years of experience in IT Consulting, BFSI, and Healthcare industries. Prior to NCML, He worked with HCL Healthcare, Artemis Hospital and Apollo Munich Health Insurance. He has extensive experience in IT strategy and implementation. Kapil has done his post graduation from Kanpur University and MBA in E-Business(IT) from Annamalai University. He holds digital strategy certification from IIM, Bangalore and has several certifications in various areas of leadership, IT, and Cyber security.
His viewpoints were aligned with the general tone of the discussion, focusing on the advent of the widely incorporated remote working culture. The necessity of employees to either be present or not in an office environment is being questioned since there are no justifiable use cases or benefits behind that particular working culture, now that we have seen sustained business continuance primarily for the white collared employees. Trusting your employees, having open and transparent lines of communication is extremely crucial during such times since it is imperative to have open channels across the entire organisation so as to ensure that employees are aligned to the business goals of the organisation and are aware of the direction that they are headed in.
Round Table Discussion:
Towards the second half of the session, there was an open poll questionnaire initiated with participants indulging in sharing their justifications and insights around the following:
1. Will the Work-From-Home culture get phased out in the near future?
→ There was a split in the opinions of the participants here, which led to our first participant
Mr. Jasbir Singh Kochar, VP of HR for Cipla, providing his key insights into the condition of the Manufacturing and Pharmaceutical industry. As far as his organisation is concerned, the factories have been in full swing ever since the lockdown was initiated, in order to avoid any bottlenecks from arising in the supply chain of essential medicinal products. Ensuring attendance from 25%-100% of total employee strength at the plants was an issue.
From a sheer corporate stand point of view, meeting sales quota in this sector was a challenge only due to the lack of on ground sales force. The RnD department was the sole function running due to the criticality of their work and short deadlines, however other departments and functions would continue being on hiatus from being physically present at the office. While it is okay to mimic certain best practices followed by various other organisations during these times in order to ensure your business continuity, decisions regarding resuming workforce at the office should be considered extremely carefully since it is a question of the impact to the safety and health of the employees, and should not be taken lightly under any circumstance. "Empathy" is the big takeaway which should be followed by each manager and senior level in an organisation.
→ Mr. Bharat Somany, the Director at Hindustan National Glass, is in favour of the whole WFH scenario, who believes that it is an excellent work policy that has really shone to light during the entire lockdown phase, however after closely evaluating its benefits, his organisation has gone ahead with the decision of implementing it for a majority of departments permanently here on out.
2. How fast will the Indian Economy return to normalcy? Will Localisation be a key part of it?
→ A clear and decisive poll result, with the entirety of the participants voting in favour of a timeline with more than 6 months. The primary cause for this is the capability of the current market to bounce back without the means of localisation. Mr. Jasbir's insights on the matter were around the intent of localisation, which sounds great theoretically, however the primary API (Active Pharmaceutical Ingredient), is shipped from China. Therefore it would take at least 12-18 months in order to set up. This is a "wake up call" unmistakably, with the intent of localization intact, but the pace with which we were headed in order to make it a reality is albeit a bit slow, that can be realised only through a collaborated effort. Mr. Shibin entirely agreed with his view points, saying that the turn around time to actual realisation of self sufficiency since China is a key exporter of a majority of the raw materials and other goods.
Dr. Prasanth Nair, key consultant and board advisor and an ex-CHRO of Cipla, has a very interesting take on the entire subject, claiming that the entire process of localisation can be broken down into phases, with electrical components and textiles industries hopefully achieving localisation in the first initial stretch now, with complicated electronic consumer goods taking up the second phase and advanced materiology taking a later phase due to the intense Research and development required.
3. Will Employment Norms change in the coming future?
→ To sum up the entire discussion, the audience online reached a consensus on the fact as to how Employment Norms would go on to change to a certain extent in the coming future, with the advent and realisation of Work From Home beneficial use cases. New policies and frameworks will be introduced ensuring a complete change in the paradigm of typical work life culture.
Challenges currently faced:
Supply Chain Management bottlenecks
Unavailability of Medical personnel
Shift to production of protective equipment
Increased demand generation
Production floor revamp incorporating social distancing norms
Employee shift management
Workforce diminishing due to migration
Solution/Outcomation:
Agile Business decisions
Ensuring product and service quality
Engaging with Field staff
Business continuity for Sales and Revenue team
Ensuring employee performance
Ensuring employee engagement
Ensuring Productivity
Zero defect production
Ensuring Quality
Ensuring Performance
Managing Hygiene and Safety Standards
Employee Engagement
Key Discussion Points:
As industry leaders, what are a few of the challenges encountered by you during this major shift in global health and economic stability?
What were the various mitigative steps you undertook which have supported you throughout this difficult journey?
Will localization be the new norm?
Viewpoints on the transition back to the end of the lockdown? Are there any permanent changes anticipated post Covid-19?
What are a few of the precautions that other organisations such as yours take, in order to avoid a negative impact on the health and safety of their employees, but also without harming the business proceedings as well?
With the advent of an oncoming decrease in consumption and trade of China produced products, will the Manufacturing and Pharmaceutical industries have a golden wave of rapid growth, or will the supply chain management succumb under the pressure of at least tenfold increase in demand