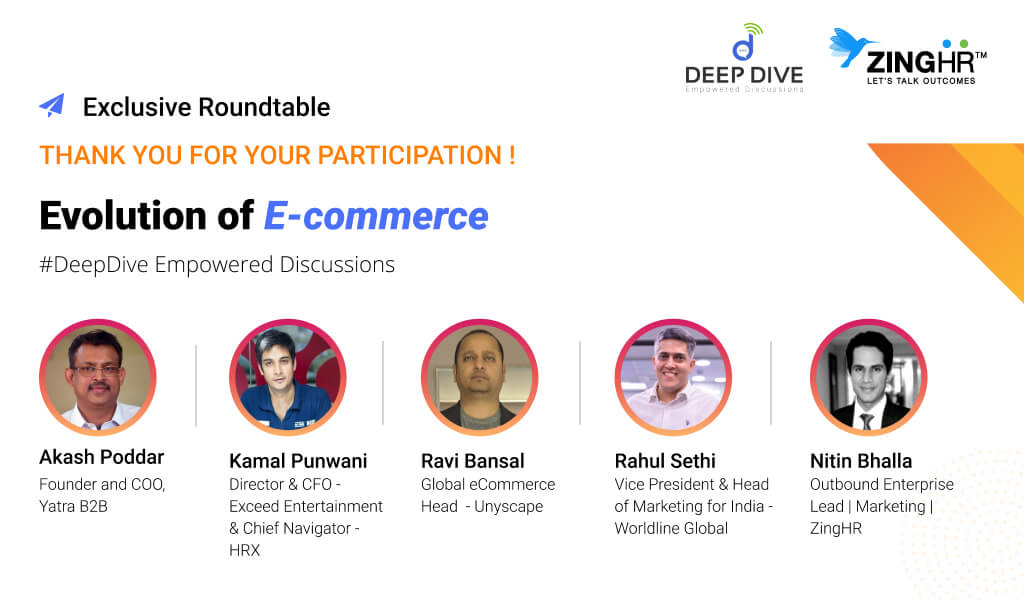 Introduction
In the 90s many of us would remember the internet was primarily characterized by slow dial-up connections and online billboards. Slowly, with the advancement of technology, we saw citizens becoming netizens.
A decade ago, E-commerce was just a pipedream and now it is the most popular way of shopping. With major milestones such as the launch of Google Adwords in 2000 and players like Alibaba and Amazon coming into the picture in the early 2000s, e-commerce turned into a rage, like it was meant to be.
In today's day and age, especially after the pandemic, e-commerce has largely become the only mode of shopping for customers. With new Technologies and Innovations, e-commerce today is a trillion-dollar industry.
Industry Experts
Akash Poddar,
Founder and COO, Yatra B2B
Ethical, Entrepreneurial and a Thought leader, Akash Poddar has been the founder of Yatra online for the past 11 years. He is strategically agile, and execution-focused, with diverse industry experience in large companies and in Startups. He has built several profitable businesses in sectors such as manufacturing, trading, services, and e-commerce. Akash is a turnaround expert and knowledgeable in business development of the international markets. He is also currently building a business plan for doubling farmer income. He is an expert in managing P&L.
With his big picture vision and gap analysis, Akash has created benchmarked companies in many sectors. 360 feedback, Data Analytics based decision making, Business development, Digital Marketing, Social listening, Micro segmentation of customers, and optimal Resource allocation, to scale growth and profitability in relatively mature businesses are some more of Akash's area of expertise.
Kamal Punwani,
Director & CFO | Exceed
Entertainment & Chief Navigator | HRX
Kamal Punwani is the Director and CFO for Exceed Entertainment, an integrated, multi-platform Entertainment and Talent management company based out of Mumbai. Exceed's areas of focus have been around conceptualising, building, marketing, brand management, identifying and partnering with relevant platforms for brands like HRX, House of Pataudi, Diva Yoga & Nude Bowls.
Kamal has been an integral part of driving business strategy and commercial partnerships for HRX, including the partnership with Myntra and alliances in the space of fitness. His endeavour is to constantly grow HRX across new categories, new businesses and new markets.
Kamal has prior extensive experience in Accounting, Financial Advisory, M&A having worked for KPMG in India for 8+ years across M&A advisory (due diligence assignments and valuations), US GAAP & Capital markets advisory and accounting & audit services. Whilst at KPMG, Kamal handled diverse clients with operations in US, UK and Asia and worked across a wide variety of industries.
Kamal is a qualified Chartered Accountant and MBA graduate from INSEAD.
Rahul Sethi
VP & Head of Marketing | Worldline Global – India
Rahul Sethi's 20 years of high energy experience in developing teams has helped him deliver differentiated brand experiences, grow market share and build customer loyalty. His expertise lies in SaaS & Platform Marketing, b2b Marketing, Integrated 360° Marketing & Performance Marketing.
Rahul was the senior Vice President Marketing with Edelweiss Financial Services, Wealth Management Division and he worked on the transformation of the company, from being a Sales driven to a Marketing driven organisation. He was also the co-Founder & CEO of LadyBlush e-commerce. They launched India's first online marketplace dedicated to Women Fashion Merchandise. Rahul is currently the VP and Head of Marketing at Worldline Global.
A believer in building successful businesses and winning; Rahul's go- to-quote is "Done is better than perfect!"
Ravi Bansal
Global e-commerce Head |
Unyscape
Ravi Bansal comes with 17 years of diverse experience with core expertise into Sales, Marketing and Product Sourcing. His rich 360-degree experience in e-commerce (employed with Marketplace, handled 1P and 3P marketplace business, D2C and D2R business) has helped him scale various businesses globally across categories like Electronics, Sports, Health & Beauty, Home & Kitchen and Apparel.
Ravi has further fleshed out Pareto rule (how to identify that 20%) and how to effectively utilize the balance 80% to scale up a business.
With experience working for names like HP, Microsoft, Dell, Flipkart, Harman, Ravi is currently working as Global e-commerce Head with Unyscape Infocom where he is helping organizations scale-up globally on Amazon, Walmart and other global platforms.
Predicting customer behaviour patterns and the need for Big Data in hyper-personalization
Ravi Bansal
There are thoughts and ideas being put in front of a consumer that they are not aware of, but are still intrigued and looking into, such as the thought of purchasing a commodity that they never would by themselves. Companies these days know how to read behaviour and figure out what consumers need. Search engines now have become so smart; all you need to do is put a few inputs and it will bring to you or advertise your products to consumers who are more likely to buy. At the end of the day, the purchase power has improved with the Middle class, which is one of the largest segments. We are spending more than how much we earn thanks to EMIs. It is improving our living quality. So, organizations need to start reading consumer behaviour patterns and leverage it by using Big Data and Smart Analytics.
The Indian and US market is very different from, say the Middle-Eastern market. Indians and Americans have a value for money mentality. Neither of them would be so brand conscious and they are more likely to switch to other brands, if they are getting better value. But in the Gulf, people are brand conscious. They will not think of value for money.
Also, Hyper-personalization does not work in the Gulf because as a brand if you are not on social channel called Snapchat you are not taken seriously. And if you are not available offline, a brand will not be recognized, unlike US and India.
The US is not afraid of experimenting with new brands, so hyper-personalization works in the Americas. If a 35 – 40-year-old woman is facing cellulite issues, she will be exposed to plenty of products around her as social media is very strong there and tuning to customer needs is easy.
Aakash Poddar
Big data is a buzzword like going digital. But what is crucial, is that we need to be able to do something with that data. Data needs to be converted to usable information and needs to be churned out in nanoseconds and thrown out to consumers at zero moment of truth, which is the point at which they make their buying decisions. Travel companies need to do the same. If I prefer AirBnB style of accommodation rather than hotels, then companies need to throw those options at me online.
In terms of personalisation, apart from data, we also need to have an element of micro- customer segmentation and micro listing on social media. As an example, if someone is traveling to Italy, that person will reach out to someone in their social circle, who has done the same. This information needs to be tapped by travel companies. Here Augmented reality and virtual reality will play a very critical role. Even when it comes to privacy there are global data protection policies, but everyone knows that consumer minds are being read these days.
Even when it comes to content and media, from the 70s itself people were able to understand what the market wants and customise things like film trailers and the content in it itself.
Kamal Punwani
One thing we have seen on the fashion and apparel side is how data is being used to forecast and predict the future trends and designs. The retailers who have this data for their labels have been able to manage their inventories a little more efficiently, as they have real-time data of what is selling. The style, sizes across all brands are reachable. Some companies are technology based and are also creating their products on the basis of data. Like Shein, where every piece of apparel they produce is being built on data that is throwing up.
Another interesting area is in content size, as technology is getting integrated on the media domain as well. Film trailers are being customized on the basis of people preferences. Whether someone likes emotional movies or whether someone is an action fan; the content is being personalized to all types of viewers.
Rahul Sethi
We are seeing a level of personalisation that brands are doing, but it is not hyper- personalization yet. We still have to walk our distance. For example: Amazon has been showing related offerings and reaching out to people for the past 10 years. We haven't been able to create a special intelligence based on big data. But there are some companies who have been able to create hyper-personalization.
More than e-commerce, hyper-personalization is happening in the medicine industry. It has helped as we are seeing companies producing vaccines for covid 19, due to data synchronization and there are cures today. Rather than relying on diagnosis for a patient, who walks in and says I have covid symptoms; it was relying on data as it was so new. We are seeing AI and AR for customer experience, and in near future hyper-personalization will become very important. Because we are living in an era of abundance. There are Plethora of options available, so how can companies narrow down options and show what is relevant for individuals?
That can come from big data. How companies are processing data points at various touch points, mapping what consumers are using, and of course without compromising on privacy is critical. These are some important things we will see in future, as companies are investing in all this as Customer Experience is becoming very important going forward.
Regulations in E-Commerce
Ravi Bansal
When we talk of e-commerce, we think of the giants such as Flipkart, Amazon, Chroma, Reliance, online and offline both. Second are MSMEs which are the resellers online or shopkeepers. And third are customers. All three have their own share of unfair means in the entire scheme of things. We all know one person in our life who has purchased from Amazon and returned it in a ten days window. People are buying genuine products and sending back fake products, and that percentage is 3% of e-commerce retailer's revenue. This is unfair on customers' part.
Talking about discounts, it's not only Flipkart and Amazon who run heavy discounts. Reliance and Chroma also offer heavy discounts. And if you look at Vijay sales and Pai International during festivals, they have bumper prizes, where they have even given a 2BKH house as a prize. Flipkart and Amazon don't do that. Then why is the government only regulating the online retailing sector?
There used to be a time when the organized sector with Big Bazaar, Reliance and mall culture was upcoming and similar discussions were happening about organised sector killing the unorganised one. But nothing happened and both survived. Same type of discussions happen now as well, on the Online market trying to kill the offline market. This will phase out as well.
The Government is not doing enough to promote e-commerce as an industry. They have put regulations but it's not fair on their part. A customer might mistrust retailers and find it hard to feel safe making online transactions. So safeguarding customer interests is paramount and definitely there needs to be some regulation around in order to safeguard the customer and retailers. But I think we need to look at retail on the whole and not just e-commerce when regulations come in question. Government needs to take a holistic approach.
Monopoly is not good for any industry or the economy at large. But when it comes to regulation and policy, somehow things hover around e-commerce only. This monopoly is not just in e-commerce but other places too. Apart from Linkedin, there's not a single other professional platform. When it comes to micro-blogging, twitter prevails. Facebook has bought all other competitors and is the biggest social media network. So, monopoly is everywhere, then why pinpoint e-commerce only.
If we talk about the Competition Act in India, MRP is what we follow. One cannot sell more than what is mentioned on the MRP label, but companies can go as low as they want. This is what the law says. So why are the Amazon's and Flipkart's of the world being stopped from giving discounts? By telling them not to discount, you are contradicting your law. Also, why should only these two players stop discount? Many other people do that.
Akash Poddar
Things that need to be regulated, need to be regulated as people's privacy is essential. But how do you regulate entrepreneurship? Globally the big brands and best ones are built around monopolistic positions. The Unorganized sector now is benefiting as they are using e-commerce. Brands like Shopify have a plug and play e-commerce model. You come in, localize, get details, add a few clicks and you are good to go. In fifteen minutes, you can start a brand-new business. They enable retailers to source items at cheaper prices and do just -in- time inventory only to buy smaller quantities at higher discount. This is an era of shared economy and Monopoly is going to be there. It is idealistic that it should not be around, but it is not realistic.
Rahul Sethi
Customers are not comfortable flashing their cards to new entrepreneurs online. I don't think the solution is to let these people go unregulated. There are guidelines in the payment industry and procedures put in place for the regulators to handle these situations. But it will take time.
Why are regulations imposed largely for online mediums? The answer is that there is a clear guideline that the government has set that's existed for 15 years on FDI and retail. It was 51% allowed. That is the reason Walmart had to partner with someone when it entered India.
When retail companies get bigger, there is an escalation in monopoly, and it is never good because it becomes all about building powerhouses. There must be equal opportunities for new players to come in as well. Retailers tend to get bigger and have an undue advantage, which creates entry barriers for any new player. That's why there was an FDI policy for retail. Speaking of Online businesses, they are very efficient as they exist virtually. Retail businesses still have a location disadvantage and is a time consuming and capital-intensive process, but that doesn't happen online.
If you are a democratic marketplace that has an equal opportunity for every seller, then you can be 100% FDI, like an Amazon or Flipkart. But you can't carry inventories in your name.
There was definitely some opaqueness so the government had to come on strict. Online mode is efficient and creates a winner take all market situation. You look across businesses, not just e-commerce, but across all sectors. Which is the number one search engine? Google. There is no number two. Online shopping? Amazon. There is no number two. If you compare offline, there will be 4 to 5 players. The first one might have a 30% share, second would have 15 to 20%. But in the online scenario, the first one has 98% and the second one has 2%. So, this discrepancy in power dynamics needs to be controlled. Regulation is needed if you want to create a fair opportunity for everyone. India is an unorganized economy, so MSMEs, mom-and-pop stores etc. are a very essential part of the Indian economy. So, we need to ensure that they are maintained.
Kamal Punwani
We are witnessing a parallel trend that is the gaming industry. It has grown immensely and there are talks about regulation. Other sports have federations but with gaming, there is no regulation now. However, it will start soon. But if the regulations are a little more archaic, we can foresee a huge impact since the industry is so dynamic that you can't capture it in a policy. So, I think gaming is the next piece where regulations will start to apply.
Divide between Offline and Online culture
Kamal Punwani
This entire topic is about evolution. It is happening and will continue. When you look at content, there is a threat of existence for multiplex and cinema owners as the OTT platform has taken away their business. People are projecting that small films and medium films are to be seen at home and only the spectacles will be kept for theatre. So, half of the theatre business goes away there. It is impacting the offline view of the content. Factors such as pricing and convenience has helped the OTT platform. Also, many OTT players are foreign companies who have the required capital. It is beneficial, it is about the customer's benefit and of course, there will be policies trying to protect it. There is a shift in this direction and e-commerce is here to stay. They have uncertainty and additional costs going in, so there will be regulations to make things more efficient.
Rahul Sethi
We need to know that the line between online and offline, between real and virtual is blurring. We are getting into an omnichannel scenario or even an omnipresent one, where customers are living both physical and virtual lives. They are everywhere. We do conferences that are virtual which feels like all of us are present in a room. So, Physical retail will be passed, as it will be an omnichannel experience for customers. That will be the way to go.