'Emerging Gig Economy in 2021 – The Remotinals'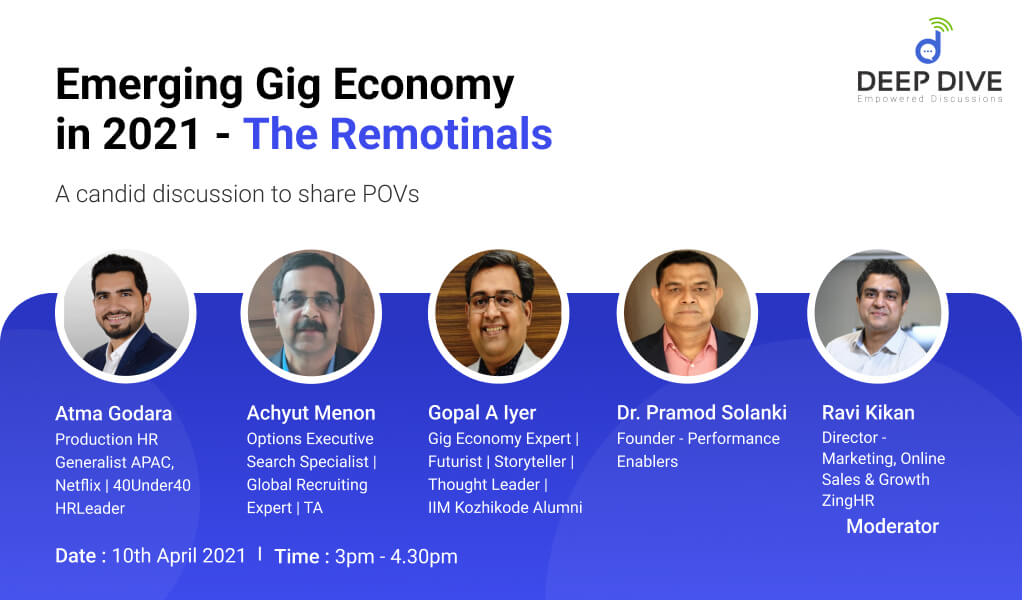 Understanding the Gig Economy
There has been a considerable boom in the digital space across the world, post 2020. In India alone we now have about 760mn smartphone users in 2021. The rapid forced shift to the digital world has changed the way we work or procure services. And this has led to the emergence of Gig workers, wherein a significant number of people work part-time, temporary, or as independent contractors in a gig economy. The gig economy comprises people who work on freelance or contract basis. A gig worker gets the freedom to work for several employers at the same time while retaining his freedom. It is a shift from a regular 9-5 job to an on-demand kind of work, where the worker also gets the freedom to choose his remuneration. It gives the workforce the freedom to accommodate both the work and family along with the preference to choose the projects that suit them best.The pandemic has changed the way businesses are conducted, not only in India but all across the world. Due to the forced remote work culture, many companies are realising its advantage on stressed cash flow, remodelling their operations as per business continuity plans, and opting to hire freelance talent under the given market scenario.
In the present scenario, India stands to lose around 135 million jobs due to thepandemic. Many of them could be guided towards building skill sets to suit freelance work opportunities and be a part of this growing flex or gig economy.Growth of the gig economy in a country like India has necessitated digital transformation at an unprecedented scale. India's gig sector is expected to grow to $455 billion by 2024 at a compounded annual growth rate of 17 per cent—with potential to grow at least double the pre-estimates for the post-COVID-10 pandemic period.
The Factors Behind a Gig Economy
Biggest factor in boosting the Gig economy has been Covid 19, across the world.
Wherein a black swan event forced us all to change/pivot our ways of doing things. The gig economy grew significantly during the 2020 coronavirus pandemic, as gig workers provided essentials to homebound customers and the jobs which were lost turned to part-time & short contractual work to supplement their income. When the pandemic is over, employers will need to prepare for shifts in the workplace, like the gig economy.
Employers have a wider pool of candidates to choose from because they are not required to hire someone based on their proximity. Furthermore, computers have advanced to the point where they can either replace people's previous jobs or allow people to work just as efficiently from home as they could in person. The growth of the gig economy is influenced by economic factors as well. Employers who cannot afford to hire full-time employees to do all of the necessary work will frequently hire part-time or temporary employees to handle busier periods or specific projects.
People on the employee side of the equation often find that they need to relocate or work several jobs in order to afford the lifestyle they want. It's also normal for people to change careers many times during their lives, so the gig economy can be seen as a reflection of this on a large scale. Before we go ahead, here's an amazingly suitable quote to help you all to succeed in these unprecedented, fast-moving, changing times which have disrupted many businesses overnight. An example would be of CitiBank shutting down their retail operations in over 12 countries across the world.
"The illiterate of the 21st century will not be those who cannot read and write, but those who cannot learn, unlearn, and relearn. "
― Alvin Toffler
Opening notes:
Gopal A Iyer
Gig Economy Expert | Futurist | Storyteller | Thought Leader | IIM Kozhikode Alumni
Let me quote you an example yesterday in one of my conversations we were looking for professionals for Microsoft Azure in a particular city of India, and the demand for that role was 2500 & the supply was 528,000 plus & yet there is a disparity in terms of we say we don't get talented people, there is a war for talent n blah blah. The fact is that we are not able to bring it all together through a good platform or a mechanism that makes the buyer of the services & the seller of the services on the same platform to get the work done. Now, what has happened in the way we have started living is the consumption patterns are shifting today. Today we have access to platforms that give us information & we engage in business through them & all of that, add Covid to it, has completely transformed the way we do everything. Be it grocery shopping, apparel, or using Uber, all of it has been happening through a platform economy at the click of a button. Now a huge account of plus to consumers is that you don't have to acquire everything, I would buy things only when I need them & if I don't find them useful, I would sell them on OLX, & that is what going to be a huge consumer mindset shift that is going to drive the way we do business as well. "We are no longer experts in a particular domain. We are now talking about expertise and skills. I'm no longer an HR professional, I am a gig economy expert and within the gig economy, I may be a platform expert and that may have a specific currency or a value associated with it." 
Atma Godara
Production HR Generalist APAC, Netflix | 40Under 40 HRLeader
"What I've seen prior to my masters, I worked with BHEL for some time. And there when I used to speak to my colleagues that hey it's been a year & I feel like out of place & not being much productive here, I think I should do something else or go for my masters, my colleagues used to think what is he saying. So when I finally decided to go for my masters, my colleagues were a bit shocked and asked why am I leaving here, citing all reasons like you have such a good job & have certain luxuries/amenities & concrete retirement plans here. So here is my point of view, when I was at BHEL, for some time even I thought I would retire in 2048. I could literally foresee my retirement benefits, PPF, I could even see my boss sitting at the same place, same table, with the same mouse and monitor & had so much predictability in life then. Now, fast forward to today, now when you tell a millennial or anyone in the workforce these days that your life is going to be very much predictable, I'm sure everyone will panic." Hiring people across startups, sometimes we have seen we have rolled out an offer letter, by the time the person joined us, there was a new role for the person. One of my boss's had come from a fashion tech firm & he used to say our founder says the Earth rotates once a year, but in our organisation it rotates 4 times a year.  
Even the founder of Swiggy said recently, you can't have annual operating plans, not even the 6 months or quarterly, WOP is the new thing. When you are sitting on WOP's you really need to be sitting on top of your skills.
Pramod Solanki
Founder – Performance Enablers
There is a projection that in another 3 years, Gig economy will be about 450 billion dollars plus & some part of noticeable GDP. |In a country like India, there is a huge gap in the supply-demand generation for sure. Even though IT muscle has been there for quite some time, we have not yet fully leveraged them so far as well as we could have had. But thanks to these e-commerce companies, it showed that it is a very significant opportunity. The technology is not going to go back. It is only going to go forward. AI you know is making sure that what 2 people could do earlier, now with technology it could do what 200 people can. With the Gig format of working, it is suiting everyone. I believe we have started this a little late. But with the kind of Millennial workforce that we have and the technology support that we have, the leap that is being projected is very real & it's a matter of 1 or 2 years that one will see how substantial part of the total economy, it becomes! 
Achyut A Menon
Options Executive Search Specialist | Global Recruiting Expert | TA
Firstly what I've seen over the last 30 years is we are amidst amongst the most transformation times in terms of globalisation, technology. The rapid acceleration which is happening, it's never seen before. Mortality rates of companies have reduced. If earlier organisations which were relevant for 35 years, today the business models are changing so fast that the company itself doesn't last 15 years. When a company even won't last 15 years, who are they to decide the career of people. There is nothing permanent about a job. It's sacrosanct. It's temporary for 2-3 years. The entire onus of career management has shifted to the individuals, if earlier all the company's called out the shots, now the talent is calling the shots. In a way, I think the Gig economy has been the best thing that has happened. All of those things existed even before 2019 like tech was there etc but Pandemic made us think about what is essential & what is not essential & even just like how it affected patients with pre-existing conditions, organisations which had such slack, had been dead. I would say this is a form of Karma. What is happening right now, wouldn't have happened any differently, Gig economy is inevitable & forcing us to transform. So when the tenure is going to be short, skills n experts are the currency, you're just relevant till your last quarter. So the entire cycle time or half-life of skills are essentially changing. Even in Cinemas, every single was brought in for projects, they will play a few tasks & move out. And the industry has been existing for 40-50 years, but we haven't glamorised it as much as we are doing it today. Part of the reason is the rise of social media. 
HR Tech for #GigEconomy
HR Tech is the essence of full time employment and #GigEconomy. Present time, both employment structures need to re-invent themselves with HR Tech primarily for Payroll services.
ZingHR's Zero Touch Payroll can ease anytime disbursement, provisioning, integration from Recruitment, EC, Payroll Cockpit, TNA, Variable, etc.
Key Features
Key features Real-time employee salary projection for the current financial year
Quick real-time overview of resource costs
No extensive configuration needed
Eliminates additional salary generation processes
Generate the salary register anytime Compare salary components (gross/net/statutory) with ease