Great Minds Discuss Even Greater Outcomes.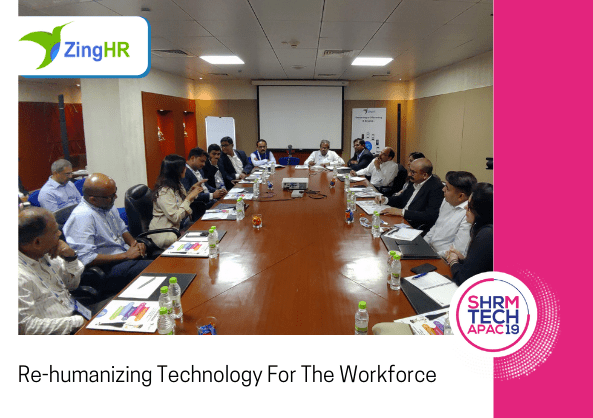 Sneak peek into the Round-table Discussion at SHRM Tech Apac 19 held at Hyderabad, India on May 22, 2019.
The Roundtable Discussion hosted by ZingHR at SHRM India's Tech Apac 19 was driven by the hot piping topic of Re-humanizing Technology for the Workforce. The discussion was much anticipated by the participants and organizers alike. It was, just as expected, a discussion full of knowledgeable HR powerhouses considered the best minds in the biz who brought the best of their abilities to the table.

We made sure we had a varied palette of experienced personnel that brings to the table, high profile discussion and utmost respect to their fields. We were thrilled to see such an exciting and interactive session with these dignitaries right since the first minute.
The discussion was opened by our very own, Prasad Rajappan who welcomed everyone and opened his fresh views on the topic. He introduced the idea behind this topic and declared the table open for further discussions with the help of the moderator-in-charge Dr. Prashanth Nair.

Dr. Prashanth Nair set the context by bringing in aspects of how new-age technologies like Artificial Intelligence, Machine Learning are fast changing the HR process landscape. He gave examples to drive home the point of issues in Ethics while using such tools and how the role of HR Leaders are transforming in view of these.

Further Kiranmai Pendyala from Intercontinental Exchange expanded the topic with a fresh perspective on jobs and the ever-changing behavior of the workforce. She added," Today we are talking about monotony and drudgery going away. Technology is forcing us, humans, to think differently, act differently." She also exclaimed," Jobs aren't going away, they're transforming. The quality of jobs is improving. It's a valuable addition to what we bring to the table. Organizations have to leverage technology."
To which, Mukesh Kataria from Capgemini added, "We are bringing in the automation which can make our resources' life easy and comfortable. Auto sense tickets help to fix bugs in time to reinterpret user's issues." He also spoke about Auto heal using AI making the life of an engineer easier with minimal automation.
Preetika from Black & Veatch Private Limited also pitched in the discussion with the HR strategy that they have adopted at their workforce. She explained," Video interviews are accepted at our organization which helps saves time and enhances coordination. Operations and administrative work of HR are reduced nowadays focusing more on strategic work.

Here, Prashant Nair provoked an important yet unusual question "Do we really need an HR?"

And, Prasad Rajappan contributed by asking, "Are we losing the human touch?"

Prashant Nair justified the question stated even algorithm can be a boss. He further added mentioning that some people wanted the human touch to be there and some did not want it.

Raghvendra Yadgirkar from Orient Cement also highlighted the importance of liking for the system by saying," Be it any technology at the end of the day it is the employees who are going to use it. It should be user-friendly and provide convenience to them. Technology should match the culture of the organization to make it more human. Employee satisfaction remains an important factor."

Prasad Rajappan added a valid question of whether we are overdoing automation? Giving an example of Captain Zingo, a Google Assitant, which helps us to apply leaves and reward people and added that the users are happy with it.

Gayatri from Capgemini also introduced a fresh perspective on demands and needs by adding," The experience depends on my 'ask.' If the demand is transaction-based, we're okay with an automated convenient response. However, if I want to engage and build a relationship with the system, a human touch stands to be very vital. The emotional quotient is inherent in us and thus we love to sense it."
Prashanth dived in the discussion as a moderator emphasizing on emotions

Well, We couldn't agree more to that and so did Ram Krishna Botta from GVK Bio as he explained further, "Re-humanizing is important and you can move away from human touch. Connecting with us humans stands out to be important. Human touch is bound to be there and as HR professionals we have to do a balancing act"

By this time everyone was contributing to the subject and somewhere agreeing that human touch is definitely necessary despite all the technological support available around us.

Kiranmai Pendyala from Intercontinental Exchange made a valid point hilariously stating that the reason we all being here is the necessity of being emotionally or socially connected or we could be doing the discussion via technology. And the whole panel agreed unanimously.

Kiranmai Pendyala from Intercontinental Exchange commented and seconded RamKrishna Botta stating that some companies have withdrawn AI from Talent Aquisition as there were only doing pattern recognition and being bias towards certain criteria.
Jaikrishna from Amara Raja said the quality of work-life has improved. All these technological innovations are helping organizations from the user's standpoint. The human element is something will continue to stay.

Mukesh Kataria from Capgemini mentioned that with all the intelligence and Technology in build but we need to have the put forth our point which may be emotional reasoning.

Another panelist paved the discussion by giving an example of Google being the epitome of Technology, they do have a practice of meeting everyone once a week to make sure that the human touch is still intact. He summarised his points stating that though Technology is getting at its best, we cannot give up on human touch and should strive to balance both.

The ever increasing demand for better technology is fulfilled with the accelerated services now available at everyone's fingertips.

However, Sukrit Ghosh from DXC defends this perspective by explaining, "Technology is there to provide you quicker, convenient, data, and analytics. As a roadmap, you should define a culture. Decision making still has a human touch."

Nidhi from SPM Global mentioned that, Whenever she is on the floor, people want to come and engage with her and it is helping. She also mentioned that the new generation is growing with many apps and her daughter, herself takes quizzes which tell her she is depressed and then she finds a need to speak to someone. She also added that a lot of automation is happening and impacting the population. However, Jobs are not going away, we need to change or upgrade our self with new skill-sets.

Abraham Zacharia from HSBC pitched in saying, "Human touch remains important as 'we' are saving and serving somebody. It may be human to some and inhuman to somebody else."
The worthy moderator of the discussion, our very own Dr. Prashant Nair summarizes the discussion by concluding, "Generation from Generation the interface with technology is changing and evolving. As a leader, we know that it brings in Productivity, makes work life easy. Human Touch stands out to be important however the accelerating developments in the technology scenario are here to stay in the long run."
The roundtable discussion was indeed an opportunity for all of us to realize the importance of human touch in the ever-increasing world of wires and screens. We acknowledge the views of every panelist that gave us a broad outlook on a topic that still remains to be as vast as it sounds.

We look forward to catching up with you soon to discuss even more unconventionals topics.

Contact us for further information on this topic.