Leadership Connect: Mr. Shailesh Haribhakti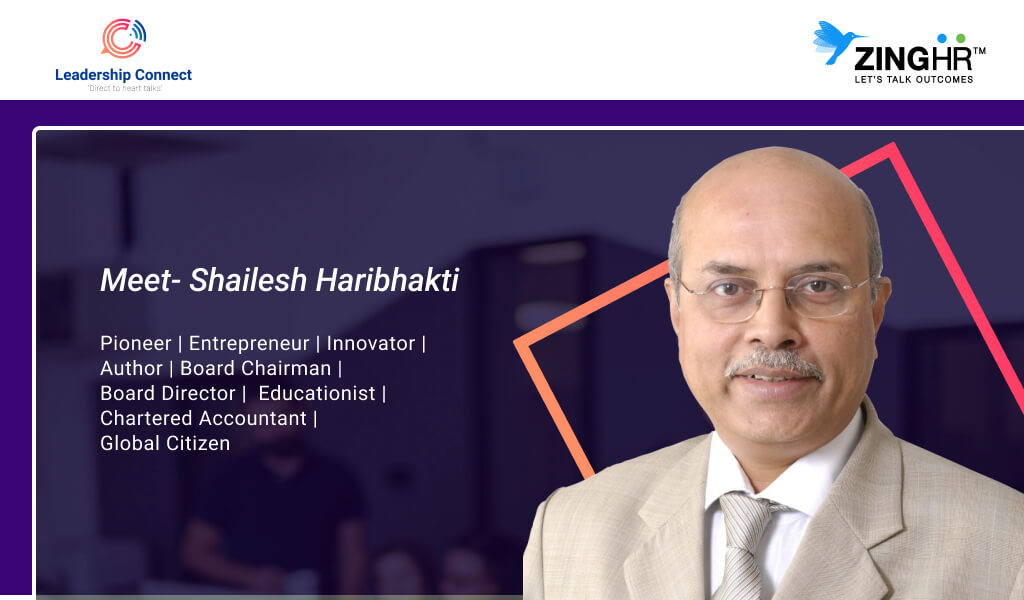 "Direct to Heart Talks with Global Thought Leaders"
Innovator, Analyst, Author, Teacher, Visionary and a Corporate Legend:
Mr. Shailesh Haribhakti got up-close and personal with us at ZingHR and spoke about relevant issues of the current times. His insights on a plethora of subjects were crucial and valuable.
Here are a few key takeaways from his 'Leadership Connect' talk with us:
The pandemic has gotten the whole world to take a pause, think and accelerate. AI, ML, 5G, Quantum internet, Bioinformatics are helping us track, crunch and decipher information. Governments are embracing e-processes and India will emerge to be a superpower of e-governance, sustainability and spirituality.
My journey has not been about working in different sectors, with different people, but it was mostly about continuous re-invention. Be it system-based auditing, cybersecurity, internal auditing, valuations, mergers & acquisitions, and the whole gamut of works, I wanted to learn and gain as much knowledge as I could.
The sectors which will benefit our economy are ITES, artificial intelligence, machine learning, IoT and sensor-based analytics. Another crucial sector is pharma. Right now, we have a crisis at our hands and healthcare sector is a make or break. One of the imperatives for India is to get everybody vaccinated in six months, and that's possible. If I just look at the current global demand-supply situation and the potential for ramping up capacity, that's very feasible. Through a combination of enhancing domestic capacity, diversifying the sources of manufacture, and importing as many approved vaccinations as is necessary for India is something which can be managed.
The winners of tomorrow will be those who have embraced, captured & fully integrated artificial intelligence into their work because human intelligence, at a particular scale is not enough. The changes happening around us are phenomenal & the complexity is so huge that you need massive computing power & massive storage power to manage this whole transition at a 3 billion human being scale
Accountability is a reason for motivation. Everyone needs to proactively become accountable. It is what helps you get out of bed every morning and be in a continuous learning process.
India has been spectacular in the dematerialisation of shares. We did the fastest dematerialization of shares in the whole world. We then went out and dematerialised all life forms. From GST, tax payment, money transfers, life policies, NPS, everything is digital! Even shares – nothing is physical.
One of the biggest impacts on the country has been digitalization. It is converting physical realities to digital realities which is the biggest thing that has transformed India.
Life hacks to success should be to trust people, delegate deeply, but with full accountability and give the right feedback. Everyone must learn from each other and feedback is the best way to go about it.
When it comes to Start-ups, an important thing they need to know is to ask the right question. They should know the problem they want to solve and work backwards which will lead them to the right business model.
Click below to know more about ZingHR's cutting-edge, in-depth Outcomation™ driven HRMS solutions.