Significance of Modern-Age HR Technology Solutions in Businesses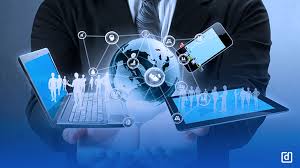 Human resources technology, also known as the HR tech, is a bucket term for associated hardware as well as software that automates the human resources function in organizations. It includes talent acquisition & management, benefits administration, employee payroll & compensation, workforce analytics, and performance management. In recent years, HR technology has promptly developed which resulted in large employers widely accepting core HR technology systems from software companies and specialized tech vendors around the world.
Many large employers have entered the second generation of HR technology as they migrate from their on-premises systems to new platforms. In the meantime, the small and the midsized employers, in large numbers, do not hesitate to move to digitize their functioning of human resources and they are usually turning to cloud platforms or the cloud-based Human Resource technology outsourcing the vendors. The digital HR tech solutions have been aiding in the growth of the businesses as the employers adopt the latest digital solutions.
Human Capital Management
Human Capital Management is also referred to as HCM. It is an umbrella term for a range of business functions in which employees are treated as the assets that are objectively managed the same way, companies view and manage other assets like money and capital equipment. Basically, HCM automates with integrated software usually that pulls together the records of the employees in core HR and talent management systems. The systems of HCM may include discrete subsystems for recruitment, learning & compensation management, performance, succession planning, and compliance.
Various HR technology vendors have also come a long way and have specialized in systems, specially dedicated to particular aspects of Human Capital Management like talent acquisition. Marketplaces or electronic job boards in which the prospective employers, as well as employees, find a way to each other are an example of this. Undoubtedly, it proves to be the most ideal amongst the employees' tech HR solutions.
Significance
The very emergence of HR solutions has offered some more time to the HR Executives to emphasize on business impact initiatives like leadership development and talent acquisition along with allowing systems to handle various tasks like service delivery as well as Business Process Management (BPM). Ultimately, the HR function has become more strategic to organizations. The advancements have led to the HR systems being available in the cloud which can be securely accessed by the employees through the internet. This makes it quite easier for companies to adopt the technology.
The modern-age HR technology solutions have greatly influenced the companies to increase their HR technology budgets. The various companies hope to improve or to develop new strategies for enterprise HR systems. These strategies would include adopting HR technology and shifting or up-gradation new cloud-based HR systems. It also includes investing in social technologies and analytics.
The effect of the HR technology solutions
With the adoption of these solutions by various companies, rapid technological changes have taken place which brings the HR technology central to business outcomes. Through the use of this technology, several companies are switching their HR processes. After adopting technology solutions, companies do not fail to state that technology has played a momentous role in providing a boost to HR productivity. They, now, spend less time rechecking the data and more time in providing HR advice as well as collaborating with other businesses.
The Final Word
Companies adopting digital technology solutions are driving their human resource processes. Many companies are going paperless after the adoption of these technology solutions. With the advent of such modern-age solutions, managing the businesses has become an easy task and the outcomes from these processes are electrifying. When implemented in the right manner, these solutions have the potential to add real value to the HR function. Surely, these solutions have become critical business drivers and companies adopting these have emerged victorious.