8 Expert Steps To Improve Candidate Experience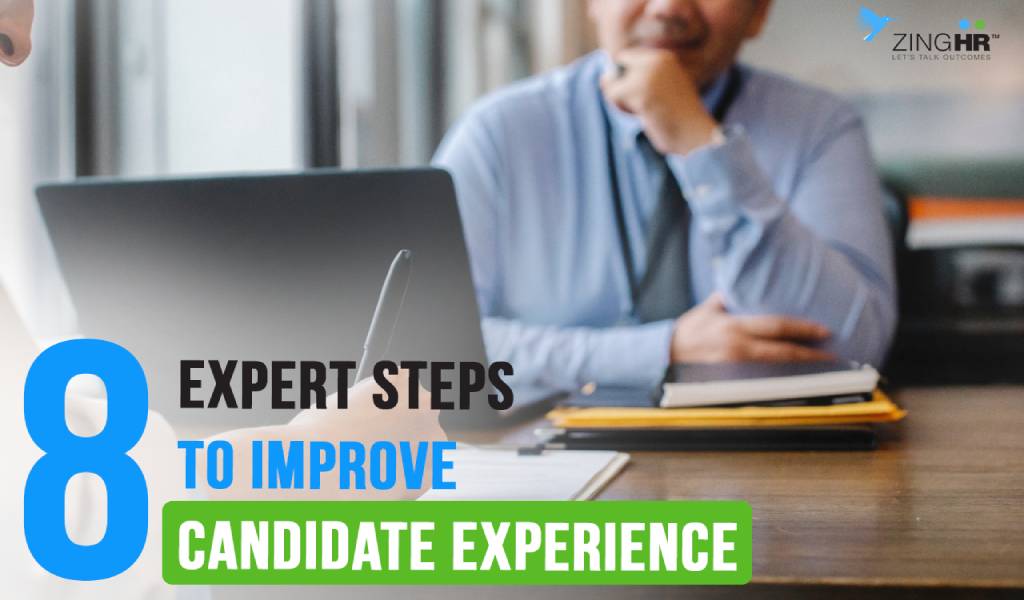 What is Candidate Experience?
A candidate is a person who is looking for a job, has a job or could be in the future.
Candidate experience is an experience a job applicant gains with a company throughout the recruiting process.
From the time a candidate reads the job description, submits an application, and attends an interview through the job opportunity and pay settlement, every action/communication is necessary.
Since the pandemic, the candidate experience in recruitment has changed.
The companies have to provide a better candidate experience virtually. With candidate experience software, there is an improved recruitment process.

Why Does Positive Candidate Experience Matter?
The candidate experience in recruitment matters as it affects the employer branding candidate experience and the decisions of hiring.
Improve Employee Retention
Employee retention begins before an employee signs the contract in a company. The recruiting process, along with the training experience, has an influence on an employees propensity to stay with the candidates throughout the process, customise an experience.
For example, for each candidate and fall out over the first year on the job might be a difference among disinterested team members and a highly satisfied candidate experience.
Attract High-Quality Candidates
Companies with a positive candidate experience have a positive reputation within candidate experience research and in a competitive recruiting industry such as the present one, the brand counts for a lot.
According to a study, prospects feel how they behaved during the recruiting process reflects how a company treats its workers.
If a company aims to recruit the right performers, be certain to reward them the very same way that they treat current staff.
Improves Your Company's Bottom Line
The quality of the candidate experience is a significant indication of how well-organized the recruitment team is. Participating in a positive applicant experience pays off far better than everything of the additional efforts that are put into the recruiting approach.
The value of a positive candidate experience is undeniable. Companies may make nearly twice as much money as organisations that don't have an introductory plan by just giving an organised orientation process.
Minimising the expense on employee attrition, boosting staff participation and efficiency, and, eventually, developing a reputation that keeps things simple for the companies to visit loyal by focusing on the candidate experience. 
Enhances Your Employer Brand
The applicant experience is closely tied to employer branding. Bad reviews on social media will make it more difficult to hire fresh talent since newer prospects will be intimidated from seeking employment at the organisation.
If a company aims to employ the greatest prospects in the industry, the company must treat individuals with extra attention throughout the recruiting procedure as candidate experience in recruitment matters.
Long and overcomplicated recruiting processes to lead to increased loss, with applicants leaving out in the middle due to insufficient experience.
A better candidate experience in recruitment acknowledges these flaws that assist businesses in fine-tuning the approach so that more qualified applicants persevere to the end.

8 Ways To Improve Candidate Experience
Write A Clear Job Description
When looking for a job, candidates seek the essential vital work-related information: job descriptions.
Honesty should begin at the beginning of the recruitment process. Expectations in the job requirements by being as transparent and honest as necessary regarding the position's requirements, difficulties, and essential capabilities also explain why candidate experience matters.
The initial stage in discovering, engaging, and recruiting the appropriate individual is to write a job description that interests prospects.
Candidates want to know about the wage range, bonuses and advantages, and business values, among other things.
They also expect all of the knowledge to be presented in an easy-to-understand style.
Enable Easy Application Process
According to studies, the average candidate invests a few hours researching and completing a sole hiring process.
It's no surprise, therefore, that many job searchers abandon online employment forms in the midst of completing them due to the length or difficulty.
This is particularly true for A-players and quiet applicants who are thinking about changing professions but aren't sure. A long application persuades them that the effort is not worthwhile.
In addition, long recruiting procedures degrade the candidate experience research.
Screen Candidates Using An Immersive Skills Assessment
Skill assessments may be utilised to rapidly process a large number of applicants via the recruitment funnel, examine a candidate's talents, and provide a modelled sense of the real employment requirements.
First and important, the best skill assessments screen applicants in, not out: providing a fair chance for every applicant to prove their capabilities. The algorithm uses a multi-layered strategy to score candidates.
Applicants are not rejected for trying to meet an artificial criterion; instead, individuals are graded depending on how well they execute. The best contenders quickly ascend to the leading, but absolutely individual is left out of the following round's consideration.
When applied at the beginning of the recruitment funnel, a talent evaluation can choose a more diversified pool of candidates to move on to the next stage.
Communicate Constantly
Communication is essential. Clarifying expectations for how and when the company will communicate, as well as the nature of the interview and how long it'll take.
Explain each step of the remote interview, as well as the equipment the company will be utilising.
One can eliminate misunderstanding and give a better candidate experience by disclosing modifications to the recruiting procedure and any recruitment setbacks ahead of time.
At every part of the procedure, providing a quick response, and letting the candidate know if they were not chosen for the position.
As a method of acceptance or rejection, ghosting applicants is a no-no. Letting the individuals know what they did well and giving them specific advice on improving candidate experience in the future.
Improvise The Career Section of Your Company Site
Individuals don't apply immediately once upon knowing about the position.
However, people go to the company's website to learn more about it. Make the most of this opportunity to transform a company job site into each shop for all prospects' queries.
Make sure that the company provides them with content that is valuable, current, and informative. Because the company's career site is the most often viewed recruitment asset, making sure prospects can readily access the knowledge they need is critical to a positive experience.
The company's career page is the finest presentation of the organisation, and it's a perfect area to highlight the company's employee benefit offerings and implement all of the employer branding strategies.
Respect Candidates' Time
Candidates want the recruiting procedure to be quick and for the company to communicate with them promptly.
When individuals register for employment, they invest effort in the investigation, resume preparation, application, interviewing, and travel.
Candidates usually spend months progressing from request to work. This is a concern since elite ability only lasts days on the market.
In today's applicant employment industry, applicants, particularly those with talents, have such a plethora of options. Candidates see more rival proposals if the companies take their time.
Because the danger of missing both seems greater than the advantage of gaining either, an applicant is more likely to accept the first of two equivalent proposals.
Provide Feedback: Ask for Feedback
Candidates are fully acquainted that feedback improves their progress as experts. The candidates would rather get positive news over the phone than in person.
If organisations must communicate bad news, utilise emails instead of phone calls since individuals would rather read than listen that they didn't qualify.
Make sure to give feedback to candidates who were not hired by the organisation. If rejected candidates receive positive comments, they are more times likely to consider the organisation for future opportunities. Keep in mind that recruitment is a two-way street.
Don't simply provide feedback; request it as well! The information gained by the firm will be important for enhancing the candidate experience.
Use The Right Recruiting Tools
When the various interviewing technologies are integrated into your recruiting process, hiring managers in various teams and regions can easily reproduce the exact encounter for each prospect, assuring accuracy.
Any sophisticated computing tool such as hr and payroll software with capabilities like teamwork, built-in video conferencing, automatic interview reports, and recordings provide a collaborative coding environment.
Such technologies make it possible to examine each candidate objectively using established evaluation standards, removing bias from the process. Key messages, including rejection letters or interview scheduling emails, maybe automated using an applicant tracking system.
A candidate relationship management system, which integrates with candidate experience software to establish a pool of applicants and keep them engaged, automates contact once someone has applied for a position.
How to Measure Candidate Experience?
Assessing and evaluating the present applicant experience at the organisation is the initial step toward enhancing it. The organisation wants to receive feedback from applicants to learn which portions of the candidate experience journey perform effectively and which ones may be improved.
Some businesses utilise a tool to implement candidate experience software. These questionnaires are issued to both qualified and failed candidates and contain a variety of questions.
If a candidate experience survey isn't feasible due to a lack of time or resources, look at data throughout the hiring process.
For example, if the talent evaluations have a high completion rate, it's a strong indicator that people are engaging with the brand well. Send a candidate feedback survey to all applicants who have completed the recruiting process, regardless of whether they were rejected, opted out, or hired.
Tracking what is written about the organisation on the internet via social media may also be used to track applicant experience. With the most significant candidate experience software, companies can create, execute, publish, and distribute stunning reports.
Candidates and employers alike are grappling with conditions and concerns that were unthinkable just over a year ago.
At this point, a rethinking of the company's improved recruitment process is required to give prospects with a positive experience.
By doing so, they are demonstrating to them that your firm cares and values empathy; it says a lot regarding why candidate experience matters and what it was like to work with the company.

Related Posts: